Why purchase all purpose cleaner at the store when you can make it yourself at home with only two ingredients? Today I will show you how to make homemade all purpose cleaner!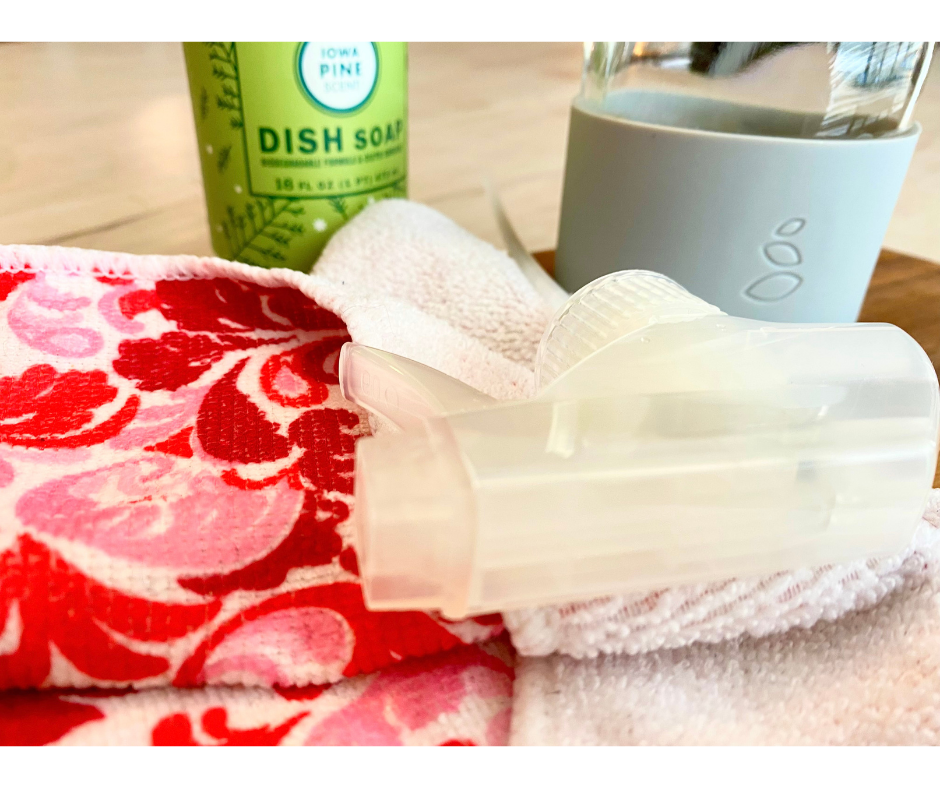 Before doing a deep clean of my kitchen and garage, I had TONS of store bought cleaning products. Because of my lack of storage, my cleaning products were always just missing or empty. I have always wanted to clean up my cleaning routine by using homemade cleaning products or earth friendly ones. During Covid, I ordered a cleaning kit from Grove Collective and though I enjoyed their products, I hated the subscription basis. One thing that stuck with me though was their glass bottles.
Making your own cleaning products at home is as easy as pie and the fun part is that you can customize them to your liking or even to the season! I am a lover of all things Mrs. Meyers and can wait to get their new scents each season. I love the way that they make our house smell and how easy they are to use.
What do I need to make homemade all purpose cleaner?
For starters, you really only need two ingredients to make homemade all purpose cleaner. There are other things that you can add it, but let's start with the basics. Here is a list of the items you will need:
Reusable spray bottle
Dish Soap
Water
A funnel
I learned the ratio for this cleaner from who else but Martha Stewart in her book "Martha Stewart's Homekeeping Handbook". Martha uses 2 Tablespoons of dish soap to 2 cups of water.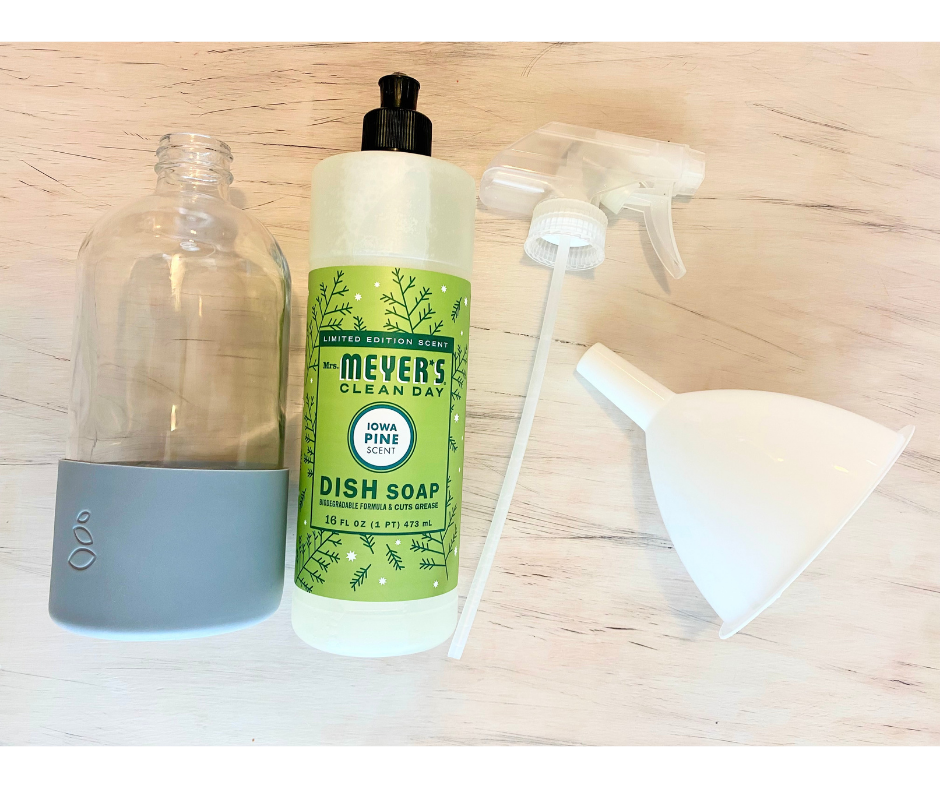 How do I make homemade all purpose cleaner?
All you need to do to make homemade all purpose cleaner is combine the ingredients! I LOVE Grove Collabrative's glass spray bottles because they are heavy duty and even have a non slip silicone cover on them to prevent accidental breakage. These glass spray bottles are also great and you can find them on Amazon! Simply take your spray bottle and remove the lid. Next, add your funnel into the neck of the spray bottle. Add in your 2 tablespoons of dish soap and slowly add your two cups of water. Replace the nozzle onto the spray bottle and shake gently to combine. Allow the foam to settle for several minutes before using and voila! Homemade all purpose cleaner!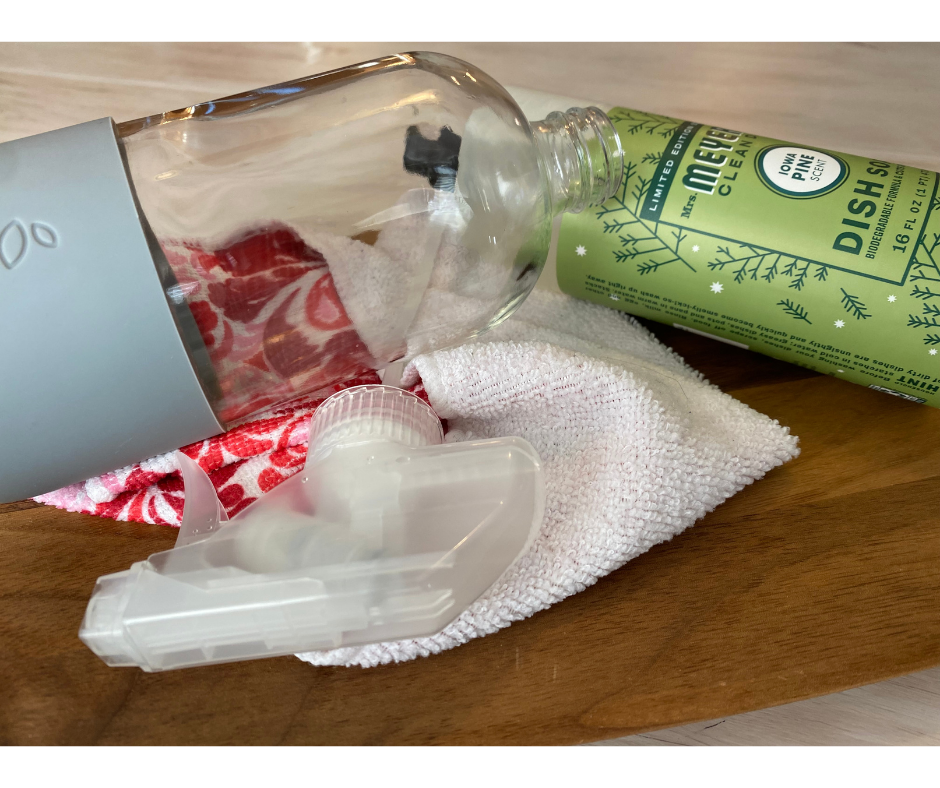 How can I customize my scents?
I love using Mrs. Meyer's dish soap to make my homemade all purpose cleaner because I love their seasonal scents. Currently, I am using their Iowa Pine scent because it is winter and I love the scent of Pine! In the spring I love to use their honeysuckle scent, and in the summer and swear by their Basil scent. Lavender is also a great go to year round!
Another way to customize would be to use a scent free dish soap and add in an essential oil of your choice. You would simply add in approximately 4 drops to 2 table spoons of scent free dish soap and 2 cups of water. Some of my favorite essential oils to use are lavender, eucalyptus, and citrus scented oils! I also really love cedar wood scent because it reminds me of the woods in the summertime!
Where can I use this homemade all purpose cleaner?
This homemade all purpose cleaner can be used all over your house, but my number one favorite use is for my kitchen counters and stovetop! The dish soap helps to cut through greasy messes on counters and stovetops and makes quick work of cleaning the most use space in our house. I use it to just do a quick swipe of my counters but also to soak off sticky messes. For example, to soak off dried on spills on my countertops, I spray plenty of the cleaner on the affected area and sit a wet scrubbing towel on top for a few minutes to soften. After about 5 minutes, I come back and easily wipe away the dried on mess!
Another place I love to use this homemade all purpose cleaner is in our bathrooms! I use it to clean countertops, sinks, and even toilet lids! This stuff is an all purpose gold mine!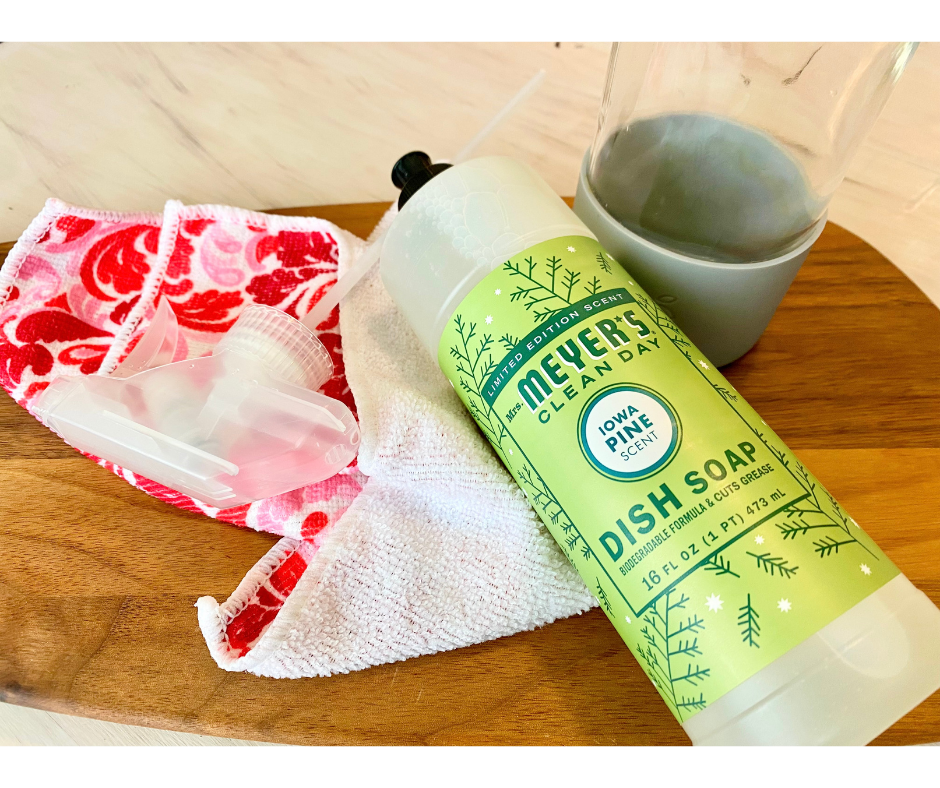 Visual Learner?
Check out my TikTok!
Shop this Post!
Mrs Meyer's Iowa Pine Dish Soap
Looking for more clever content?
Check out some of my recipes!
The best 10 minute meals you can make on a weekday!
How to make two ingredient ice cream without an ice cream maker!
Join my modern homemaking community!