Your freezer – AKA – the black hole where things go to be freezer burned. This easy how to guide for how to organize your freezer is sure to save you both food and money! It's easier than you think and quick too!
Let's start at the beginning. For years, the freezer has simply been the place that things went to die in my house. It started out as a well intentioned way to save leftover food or ingredients along with a few frozen treats thrown in along the way. Before Covid, I can honestly say, the things that got used the most in my freezer were ice cream and waffles simply because they were always in the front.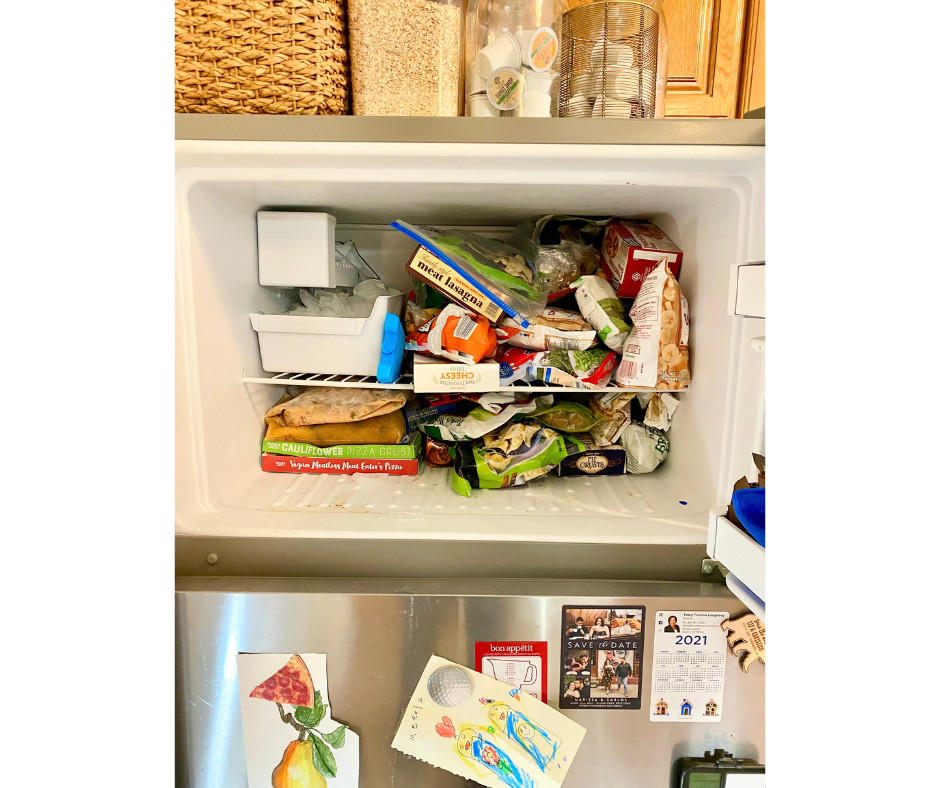 The door of my freezer became the graveyard for leftover slices of banana bread, chopped leftover veggies, and leftover shredded chicken. I was bad at labeling the bags and often ended up asking myself "what the heck is in this bag?!".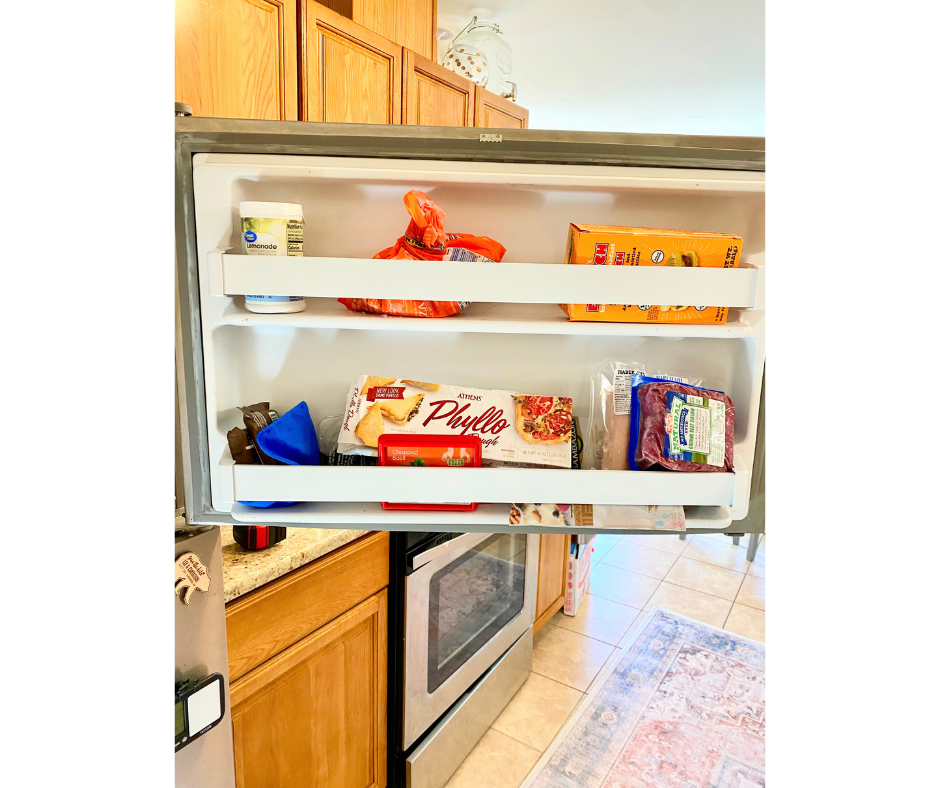 Fast forward to 2022. I decided to start my year off right by organizing the only space left untouched in my kitchen, my freezer and let me tell you… the results are SPECTACULAR!
This post contains affiliate links that I earn a small commission from at no cost to you. Please read my disclaimer notice here.
Why should I organize my freezer?
There are many benefits to organizing your freezer, but here are a few of the main ones.
Save Time – Organizing your freezer saves you time! How you might ask? Think about this. When your freezer is jam packed full of food and goodies, you often find yourself having to take everything out of the freezer just to see what is in the back! Organize your freezer allows you to take out one categorized bin at a time to find what you are looking for.
Saves Money – Yep, you heard that right! Organizing your freezer saves you money! Yes, while there might be an upfront cost to purchase your bins and labels, in the long run, organizing your freezer saves you money by saving food. How many times have you bought more meat at the grocery store not realizing you have a perfectly good pack of meat hidden in the depths of your freezer? Or how about those frozen veggies that you didn't find until they were so freezer burned you couldn't fathom eating them? Organizing in to bins allows you to easily see what's in your freezer before purchasing more.
Saves your Sanity – I can honestly say that before organizing my freezer, I literally dreaded opening it! Every time I opened our freezer, I was ready to catch whatever might fall out on me. There is nothing more satisfying that opening a perfectly organized freezer to quickly find whatever ingredient I might need.
Saves Food – Before having an organized freezer, I was constantly throwing out freezer burned food resulting in tons of food waste! Nothing feels worse than throwing out food you forgot existed until it was too late. I can now easily see what I have before grocery shopping and know the limits of what will fit in my bins to prevent me from impulse shopping.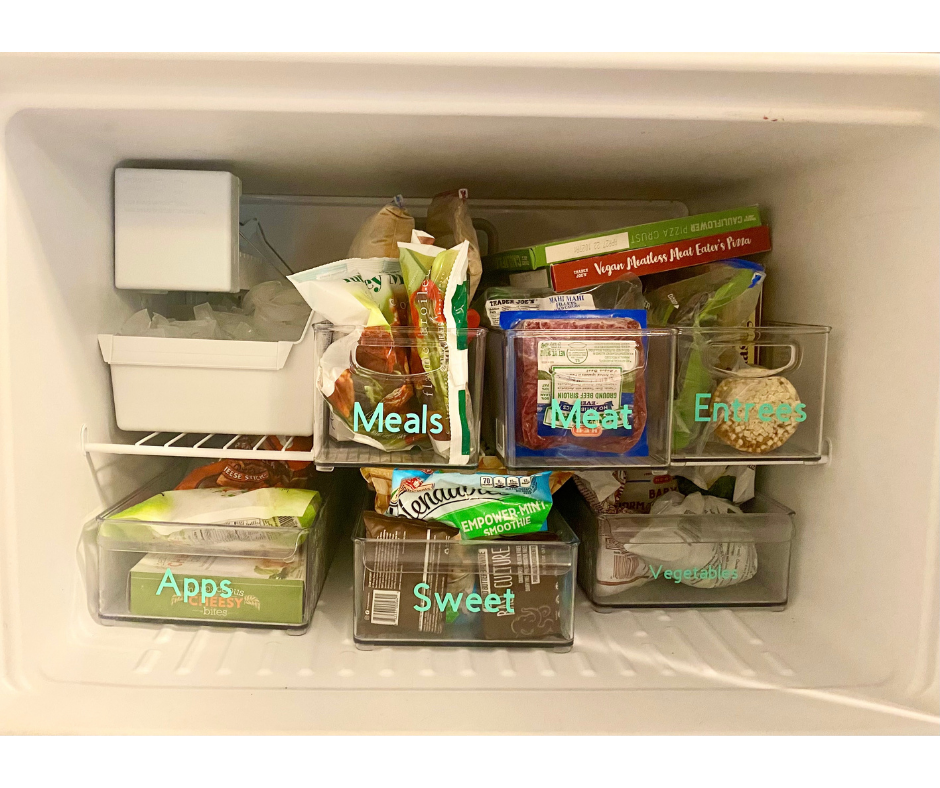 What are the steps to organizing my freezer?
The first step to organizing your freezer is categorizing the contents of your freezer. While working quickly to prevent thawing, take everything out of your freezer and create piles according to category. Take inventory of what you have and divide your freezer up into those categories. For example, my freezer categories are Meat, Veggies, Entrees, Sweets, Appetizers, Meals (things I've made and frozen like soup or lasagna), Bread, Ice Packs, and Misc.
Measure your empty freezer. You will need to measure width, height between shelves, and depth of the inside of your freezer. Be sure to take note of your ice maker and any protrusions in the back of your freezer. Take note of all measurements and divide the upper and lower shelves out by the number or categories that you have. For mine, I divided the upper and lower shelves into three categories and the door into three categories.
Clean the inside of your freezer. Using your homemade all purpose cleaner, clean and dry the inside of your fridge. Once you have finished this, temporarily all food back in the freezer to prevent thawing.
Purchase your storage containers! Once everything is placed back in your freezer, you can either head to the store or hop online to purchase your bins! I decided that Bread (frozen rolls, pie dough, etc.), Ice Packs, and Misc. were my smallest categories and would be stored in the door of my freezer. The next smallest categories were Entrees, Meals, and Meat. Because I had less room on the top shelf due to my ice maker, I divided the width of the remainder of the shelf into three and took note of the widest containers I could purchase. I then decided that my larger categories would go on the bottom shelf and divided that width into three as well.
Label your containers – I like to start out by writing the categories on the containers in dry erase marker until I am sure that they all work. I pull everything back out of the freezer and place each item into its respective category. Once I have done this, I play a little Tetris to get everything back inside the freezer and get everything in to place! Once I am sure what category will go in each container, I use my Cricut to cut out labels to label the bins as well as the door. You can purchase labels through my Etsy store!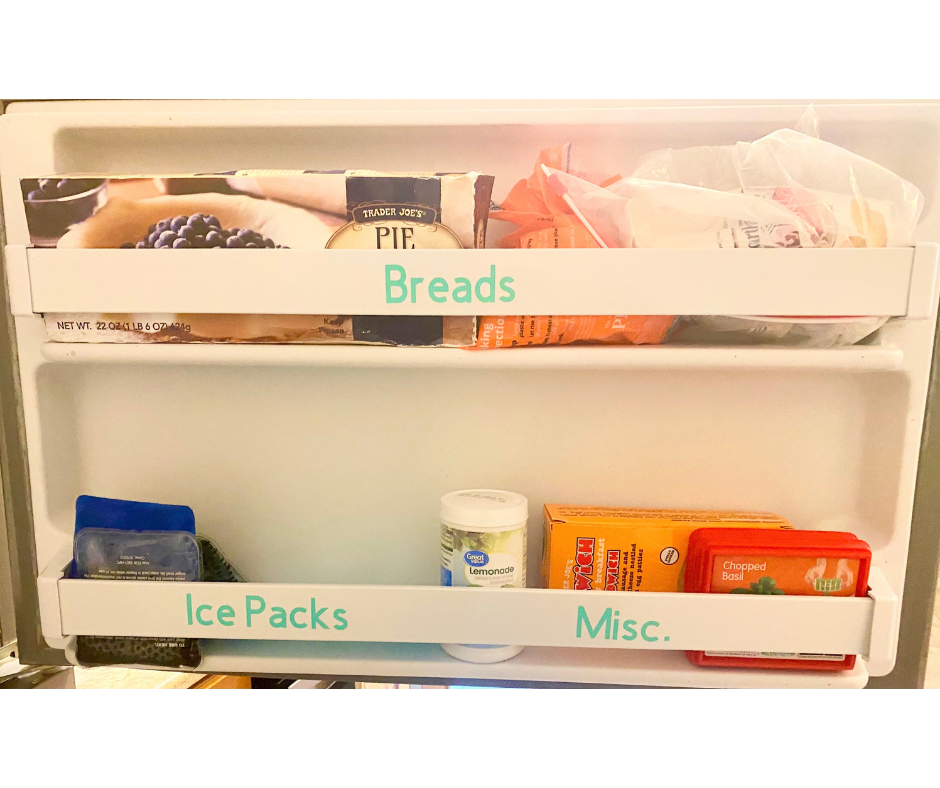 What type of bins should I use to organize my freezer?
While there are many different types of bins that you could use to organize your freezer, I prefer clear acrylic bins. I purchased mine at The Container Store, but you can also find them on Amazon or even at Costco! I like to use bins that are easy to pull out as well as easy to clean. You can even get stackable bins, but for the purposes of your freezer, I don't find this to be a super helpful feature. Here are a few links to similar bins on Amazon:
Set of Multi Size Clear Freezer Bins
Where can I get Freezer Labels?
Good news! I sell these labels in my Etsy shop! Click the link below to find them!
Okay, my freezer is organized… Let's do the fridge!
Check out my blog post to learn more about organizing your refrigerator!
New Year, New Fridge! How to organize your refrigerator!
Visual Learner? Check out my YouTube video!
Pin for later!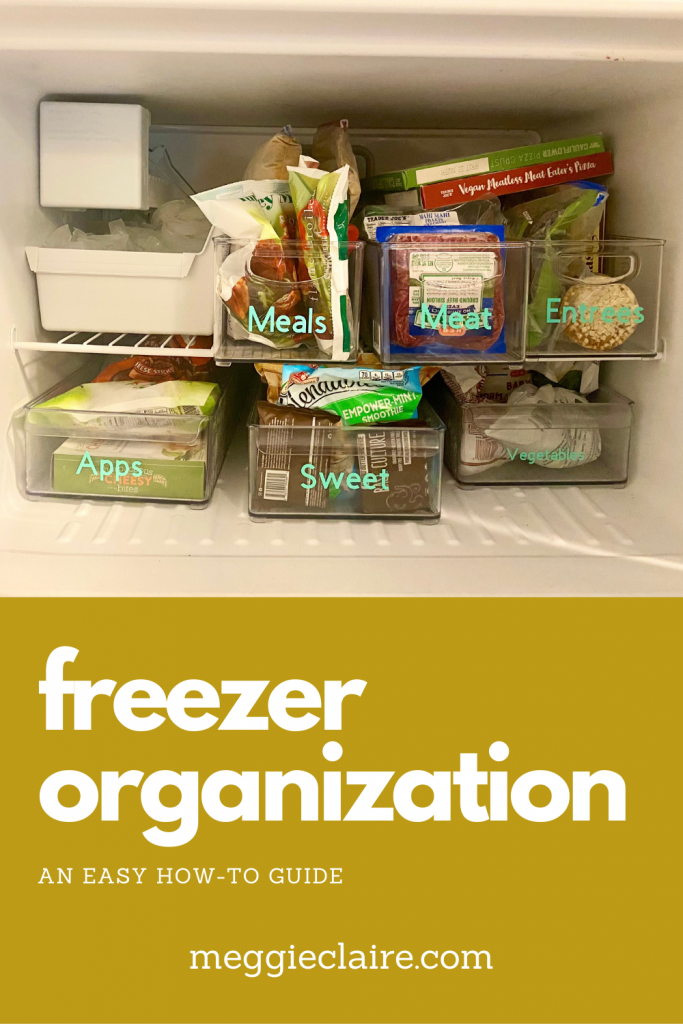 Join my modern homemaking community!