Starting a garden from scratch can be an overwhelming experience. I am here to tell you that starting an in-ground garden is a breeze and this is your year to start!
I have always found the idea of growing your own food to be extremely fascinating. Growing up in Arkansas, I always remember people bringing tomatoes, zucchini, and sweet corn to us by the bag full in the summer. These veggies were ten thousand times better than what we would get from the grocery store and taught me to appreciate vegetables. I also remember a man in our neighborhood who had a small apple orchard! I always thought it was so cool that he could just go out in his yard and pick from a variety of types of apples and then eat them.
The first time I really became interested in gardening was when I was living in Denver, Colorado. While not the most hospitable area for growing veggies, I had a yard that I could dig up and begin experimenting. I can't say that I had any true successes gardening there, but it definitely got me going!
Last year, I decided to dig up a portion of our back yard and start my very own in-ground garden! We live in a rental house in the middle of Austin, so I thought I would have to ask for permission before digging up our yard. In the long run I decided to just dig it up and ask for forgiveness later haha! I did a very rudimentary garden design and figured when we move, I will just pull up the few bits and pieces that I use to contain the garden and grass will just grow back over the fertile soil. What harm could that do?
This post contains affiliate links that I earn a small commission from at no cost to you. Please read my disclaimer notice here.
What tools do I need to start my in-ground garden?
I chose to do a super easy version of an in-ground garden and to do it all through hard manual labor. No power tools here people! Here is a list of what I used to create my in-ground garden:
Pitchfork
Plastic Edging
Compost Bin
Bird Netting
3/4″ PVC Pipe
1′ sections of steel rebar
Compost
Topsoil
Slow Feed Plant Food
Garden Stakes
Hand Shovel
Weed Guard Fabric
How to choose the location for your in-ground garden
The first step to starting your in-ground garden is to choose the location. The best location is an area of your yard that gets full sunlight the majority of the day. For me, this was in our backyard near our patio where there wasn't much shade from the large oak tree in our backyard. I chose a section of our yard that was near our water spigot so I could easily water the garden and an area that was mostly flat with no low spots. The size I chose for our garden was roughly 8'x10′ just because it was what fit best for the location.
How to prep the soil for your in-ground garden?
I used a pitchfork to roughly mark out a perimeter for my garden and went from there. I started by going through the entire 8'x10′ rectangle and prying up the grass and roots in the space. You could easily do this with a tiller, but I decided to use good old manual labor! Here is what it looked like at the beginning.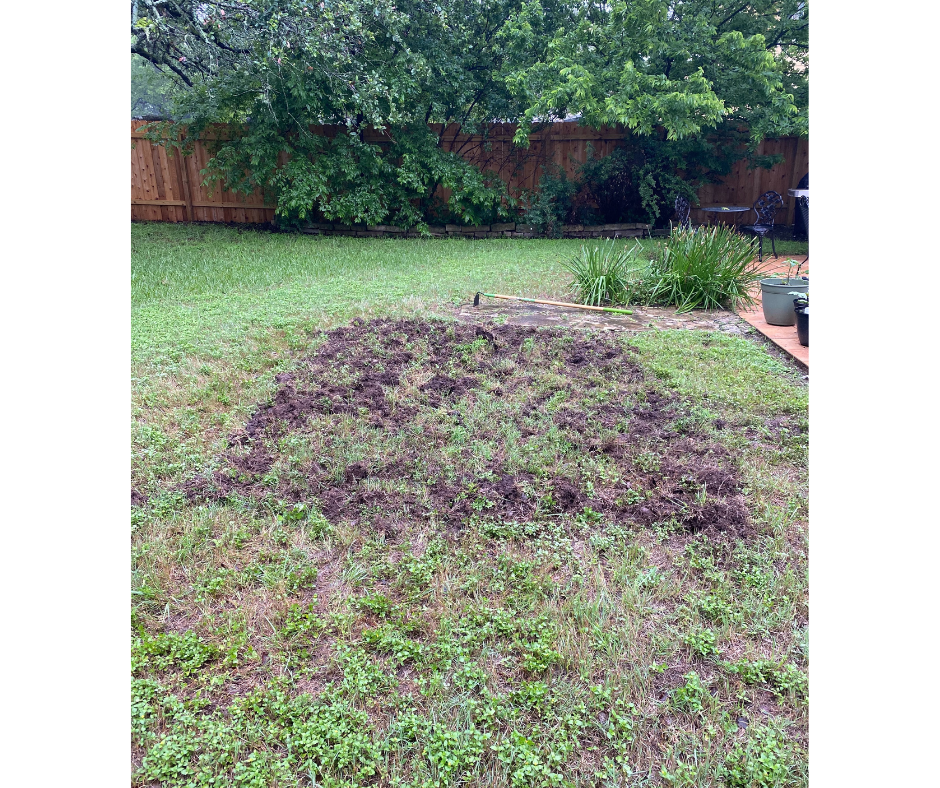 Once I had the grass and roots all pried up, I went through and put all of the grass along with the roots into our compost bin. When I had the majority of the grass and roots in the bin, I went through by hand and made sure that all of the roots were out of the dirt along with any large rocks that had surfaced in the process.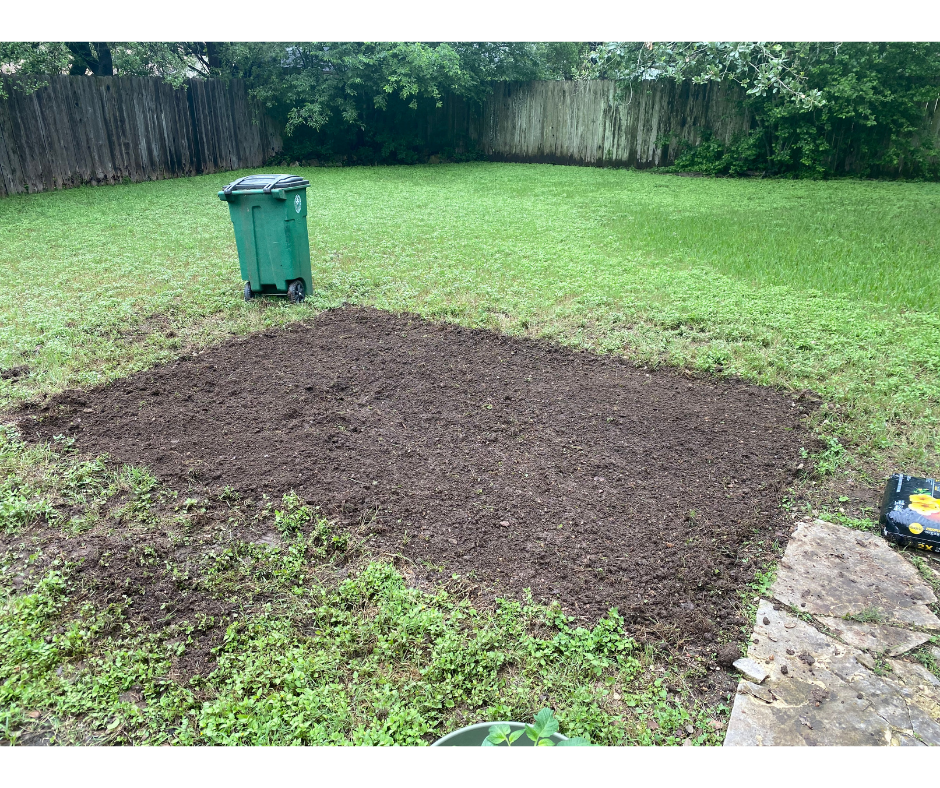 With the dirt was nice and clean, I went through and added a layer of topsoil, a layer of compost, and a sprinkling of slow release vegetable food. I went through with my pitchfork and tried to mix everything well to combine. I then chose to mound my garden into four rows for planting. You could absolutely stop here and have a great garden, but I decided to do a few more steps to keep my garden more weed free and protected.
How to protect your unground-garden from weeds, birds, and squirrels
To provide a little more protection for my garden, I decided to use weed guard fabric. I bought a large role of the weed guard at Lowe's and placed a layer of the fabric over my entire garden. I used plastic stakes to hold the sheets in place. To create a clean border around my garden, I used garden edging that is held down with stakes for easy installation. To provide moisture retention in my garden, I bought a few bags of mulch and placed an even layer of mulch over the top of the weed guard fabric. The edging that I added to the garden helps to neatly contain the topping of mulch looking nice and tidy!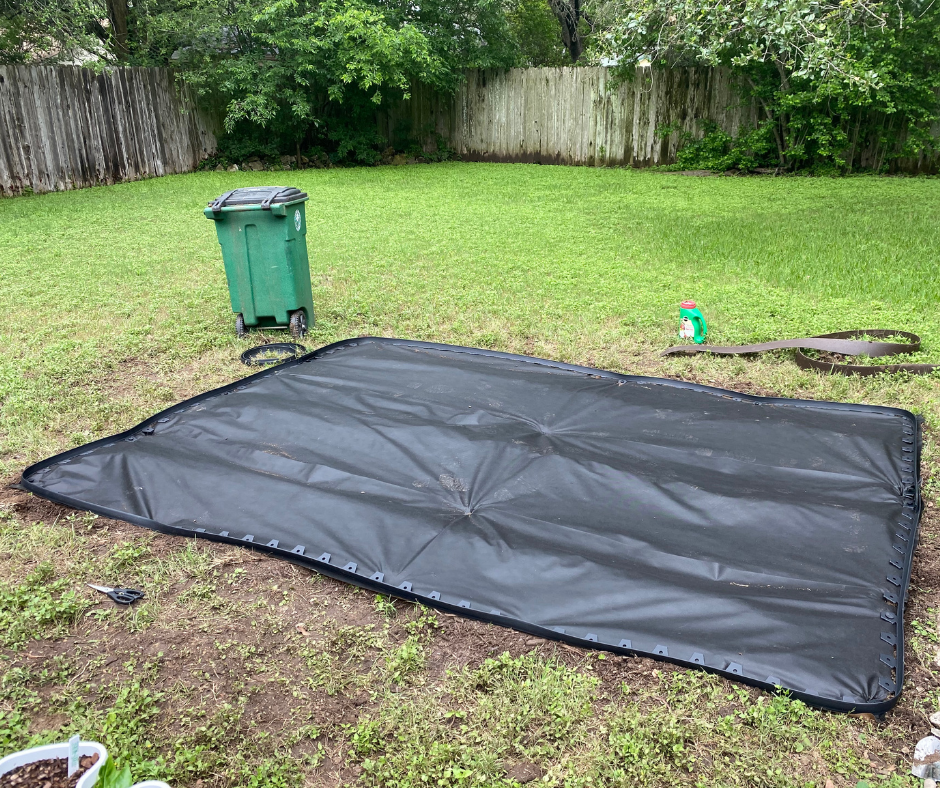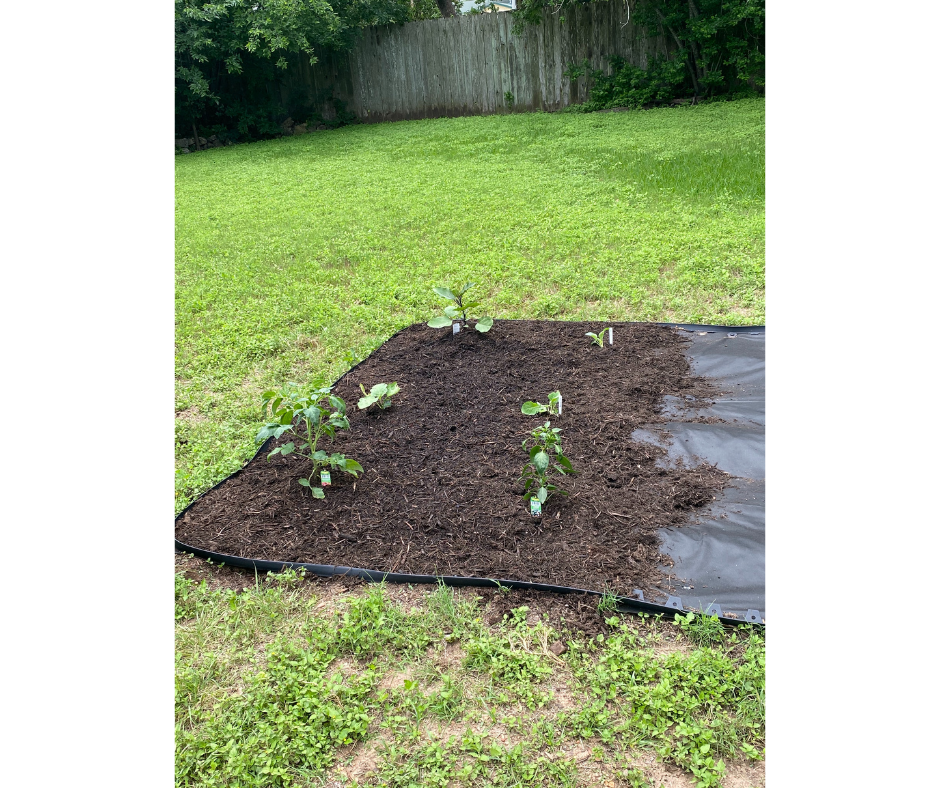 Lastly, to protect my new garden bed from birds and squirrels, I decided to place a protective bird netting over the top. To create the structure, I simply purchased pieces of steel rebar and PVC pipe at the hardware store and got to work! I placed the rebar at even intervals down the long end of my garden plot and tapped them into the soil using a rubber mallet. I then, took the PVC pipe and placed it over one piece of the rebar and bent the pipe over to cover the rebar on the opposite side. Using zip ties, I placed a layer of the bird netting over the top of the PVC pipes and secured them in place. Be sure to leave yourself an opening at each end so you can access the garden to harvest your veggies! I use a chip clip to secure the open section to my PVC pipes.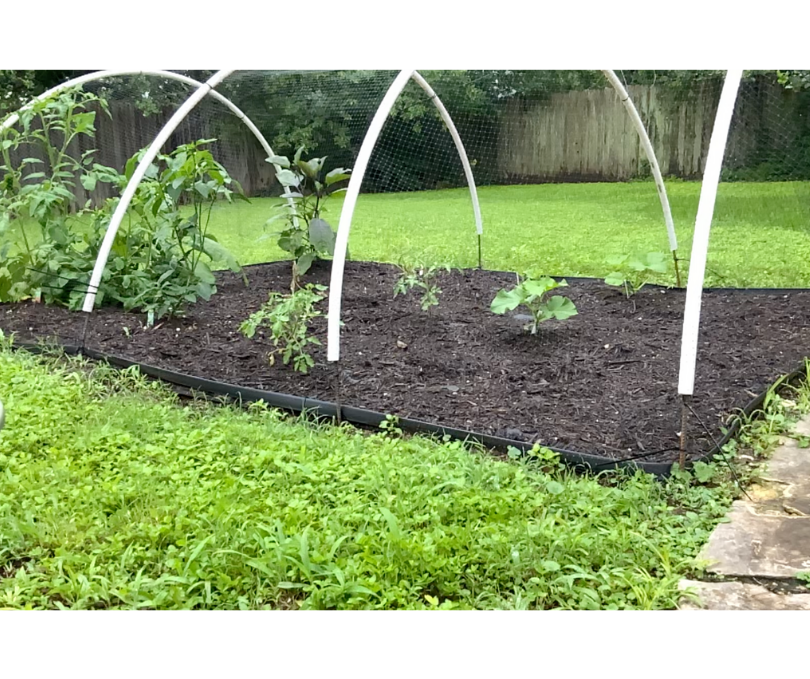 What I have grown in my in-ground garden in it's first year!
For my summer garden last year I planted a variety of vegetables! Because I had never really grown vegetables before, I went a little rogue and had many failed experiments. In spite of my naivety, I actually had a very productive little garden on my hands! My top producer was Japanese eggplants! We had more eggplants than we knew what to do with but growing them really made me learn to LOVE eggplants, which I had never been a big fan of. We also grew a ton of Cucumbers and I learned how to make homemade pickles with them! Cherry tomatoes were plentiful in the garden as well as Candy Cane Peppers. I had a massive problem with vine boring insects and never got a great harvest from my squash, but I did manage to grow a couple of delicious Pattypan Squash and loved watching them grow!
All in all, this is, in my opinion, the best use of backyard space you could possibly have! It is both a wonderful science experiment and a new culinary experience all rolled in to one! Growing your own garden gives you a new appreciation for the seasonality of the vegetables that we eat and what it takes to get those vegetables to our tables. And, if nothing else, it is a delicious summer past time that I will have for the rest of my life!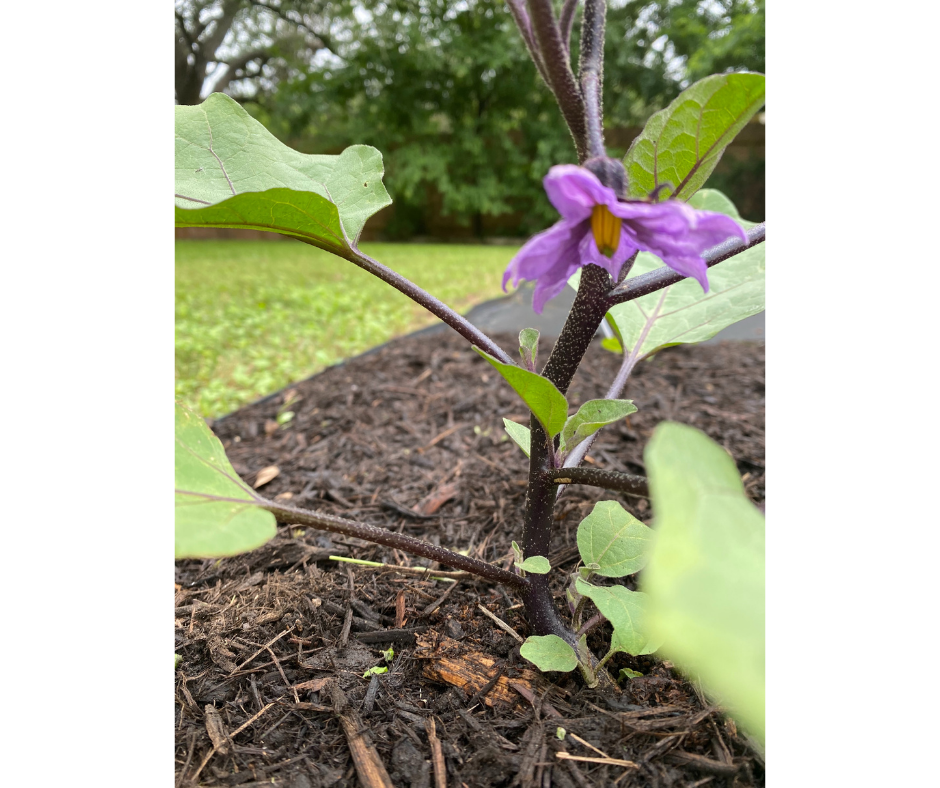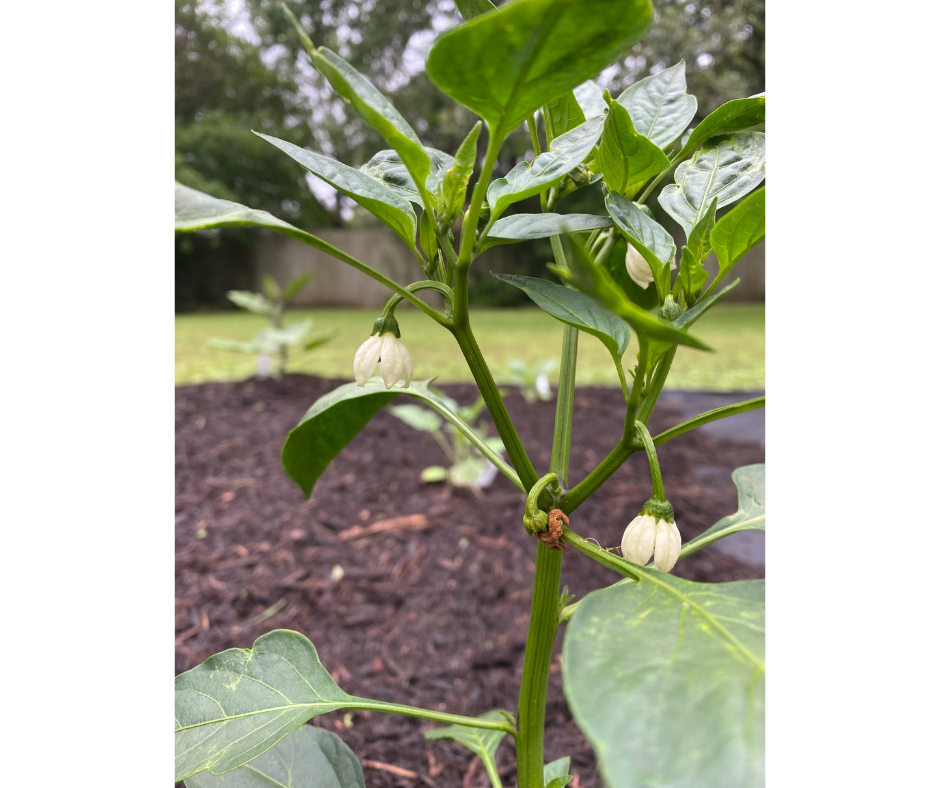 Shop this post!
Looking for more creative content?
Check out more of my blog posts!
How to make homemade all purpose cleaner
How to organize your refrigerator
Join my modern homemaking community!