Need lunch in a hurry? Summer spring rolls are one of my go to lunches during the work week! They are quick to throw together and delicious!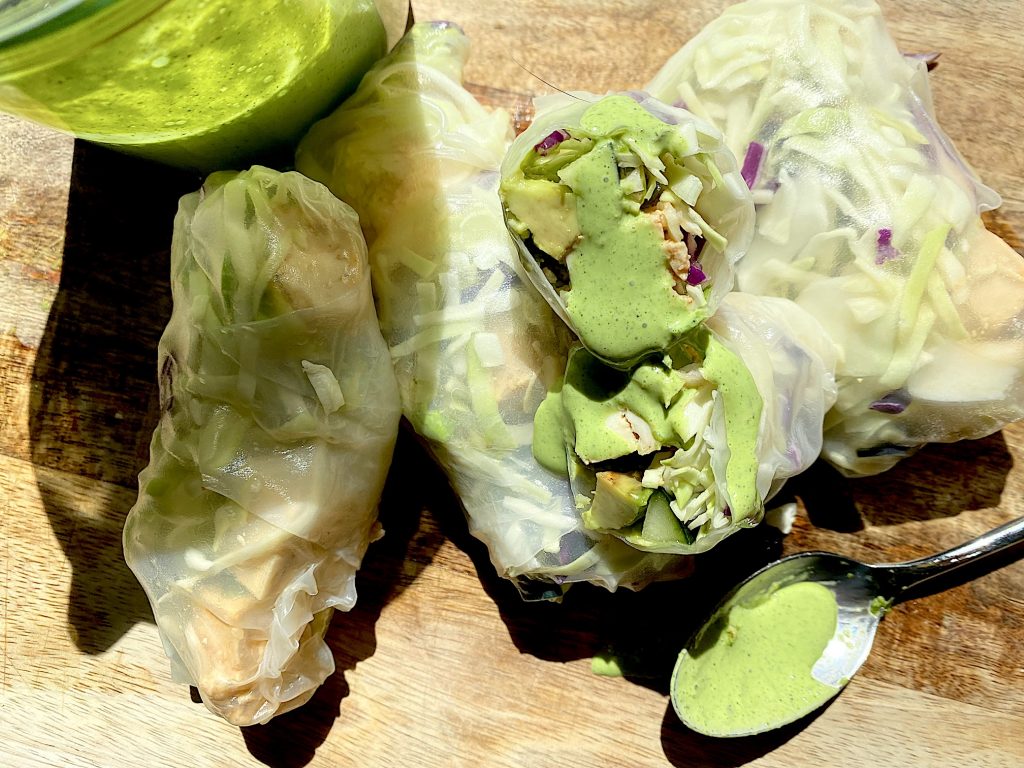 Working from home often means super random lunches. I'm either pulling leftovers from the night before out of the fridge or pulling together some odd salad using random items hiding in my crisper drawer. When I think ahead on the weekend, I try to prep something easy to pull together for my lunches, and this is one of my go-to's! Summer spring rolls are quick to prep, easy to throw together, and also super delicious!
What is a summer spring roll?
Summer spring rolls are simply a vegan version of my favorite chicken spring rolls! You really can customize them to your liking, but I typically make this vegan version using marinated tofu, broccoli slaw, and avocado. Honestly, you can use whatever you can find in your fridge to make a similar version! Really, all a spring roll is, is ingredients rolled up in a rice paper wrapper and typically eaten with a sauce.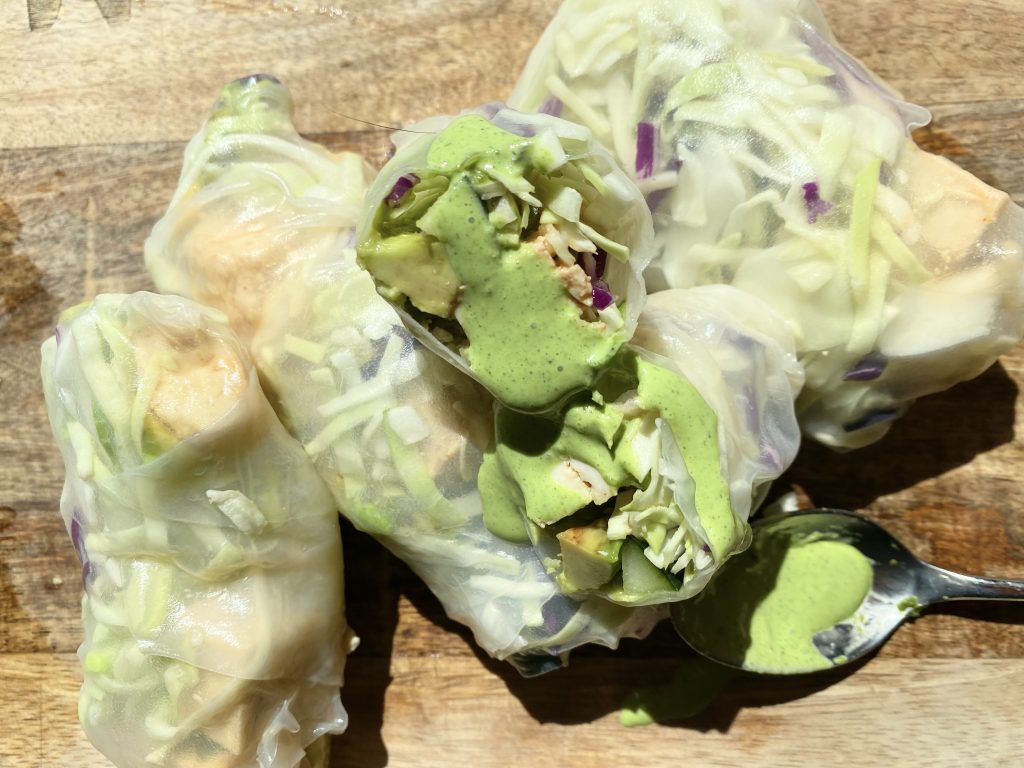 What is a spring roll wrapper?
Spring roll wrappers are typically made from rice. You can find them in almost any grocery store these days in the asian food isle! They come in a pack dry and need to be rehydrated to use. The best way that I have found to do this is to put warm water in a shallow dish. One at a time, dip the dried spring roll wrapper in the water only until it just starts to soften. Don't let them fully rehydrate or they become really hard to deal with.
How do I make Summer Spring Rolls?
The process of making my spring rolls simply begins by marinating the tofu. I create a simple marinade of soy sauce, sriracha, maple syrup, and sesame oil and place it in a resealable container. I drain my tofu and typically cube it. Once my tofu is drained and cubed, I simply add it to the container with the marinade and shake it well to evenly coat. I leave this in the fridge overnight or for at least an hour and then use the marinated tofu in my spring rolls! This tofu is especially yummy if you sauté it in a skillet for a few minutes and get it a little crispy! Yum!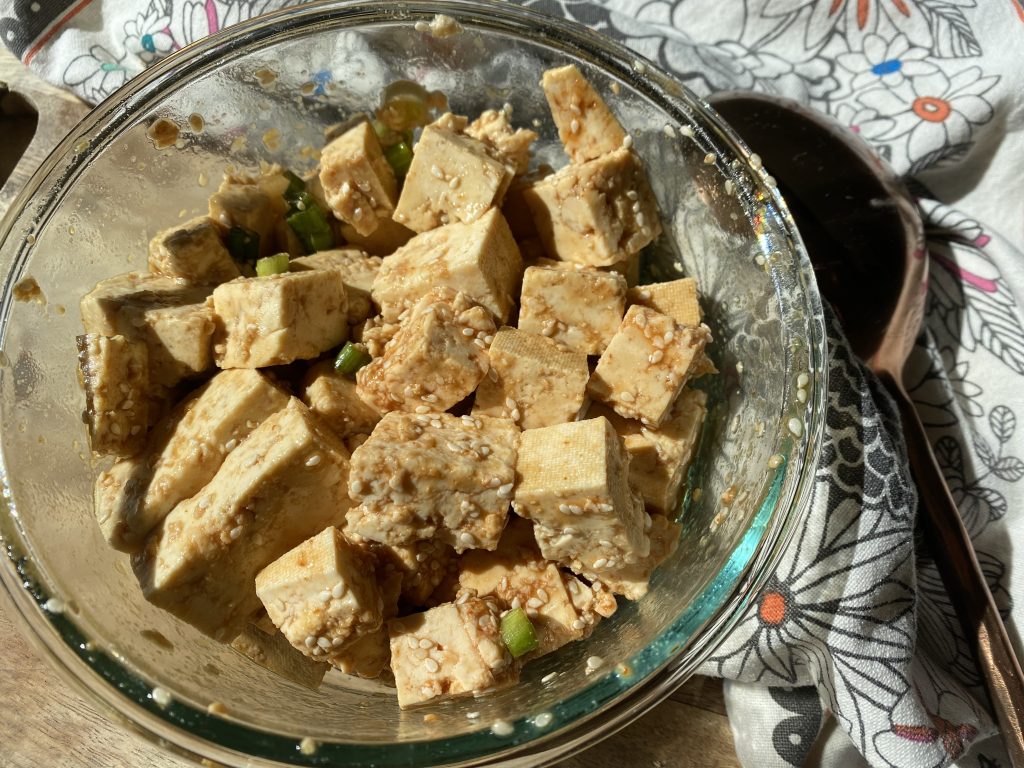 For the veggie mix, my go to is broccoli slaw that I buy prepped at the grocery store, sliced avocado, cucumber, and mango! I love the combo of salty and sweet and love the little sweet flavor that mango adds to the mix. If you don't love mango, mandarine oranges would work well too!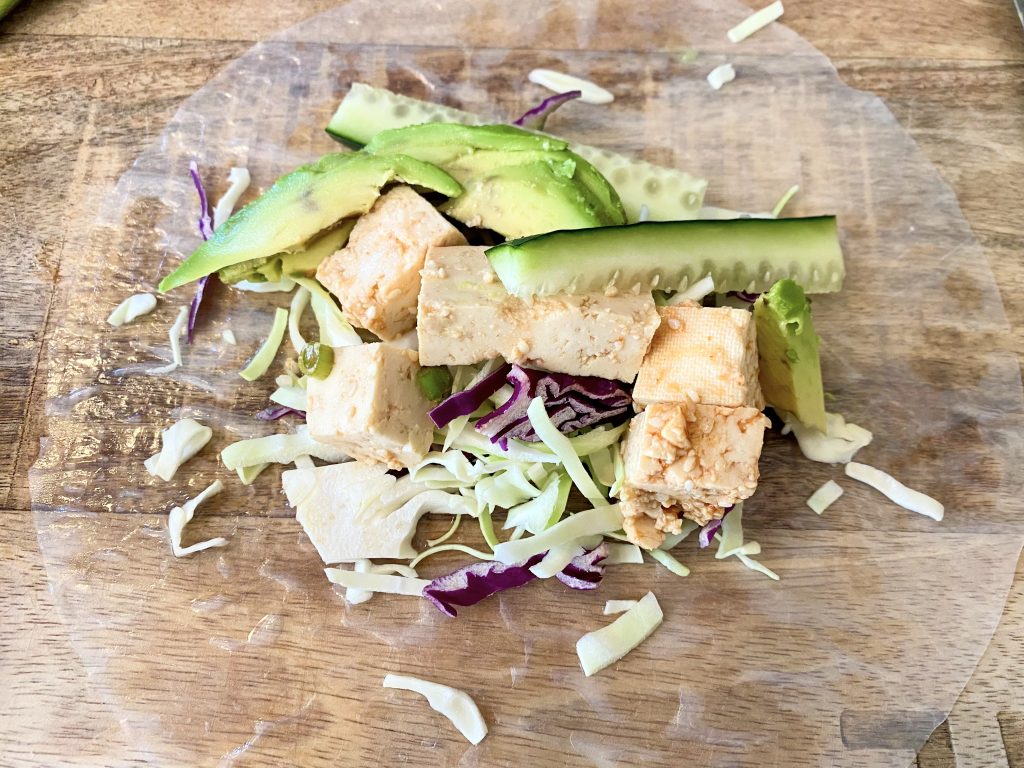 To construct your spring roll, all you need to do to start is hydrate your spring roll wrapper! Once you have hydrated one of your wrappers, place it on a clean dry surface, add a small amount of your broccoli slaw, a couple of avocado slices, and a little bit of mango and then top with your marinated tofu. Be careful not to overstuff as they will be hard to roll. To roll them up, pull the end closest to your body up and over the filling, fold in the two sides, and roll the spring roll away from you creating a tight burrito type shape. Place your spring roll on a plate and continue the process!
How do I store my Summer Spring Rolls?
You can store these in an airtight container for a few days, but I prefer to roll them fresh every time I eat them. I keep my prepped ingredients in the fridge and roll them when I'm ready to make them for lunch. If you are going to store them in a container, I would recommend spraying them with a little olive oil spray to prevent sticking.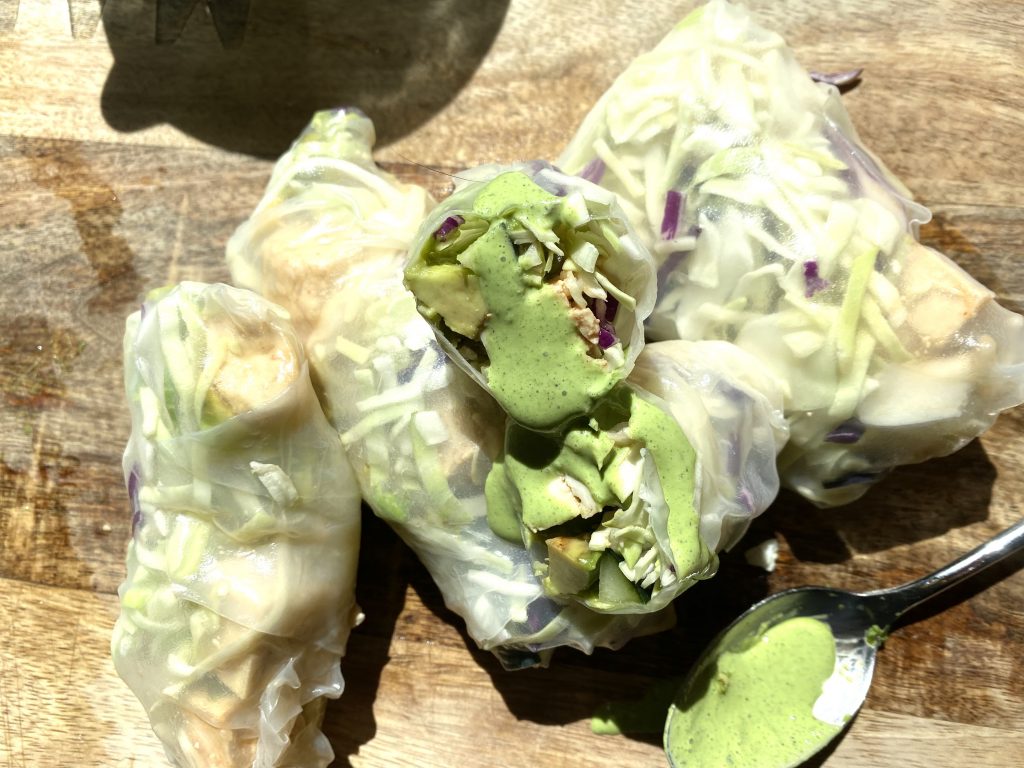 What dipping sauce should I use for my Summer Spring Rolls?
I have three dipping sauces that I LOVE to eat with these! One is exactly the same as the marinade that I made for the tofu, another is cilantro sauce, and the other is peanut sauce! For this round of Summer Spring Rolls, I made my Aunt Karen and Uncle James' recipe for Cilantro Sauce! Here is how I make it:
Yield: 12 Servings
Cilantro Dip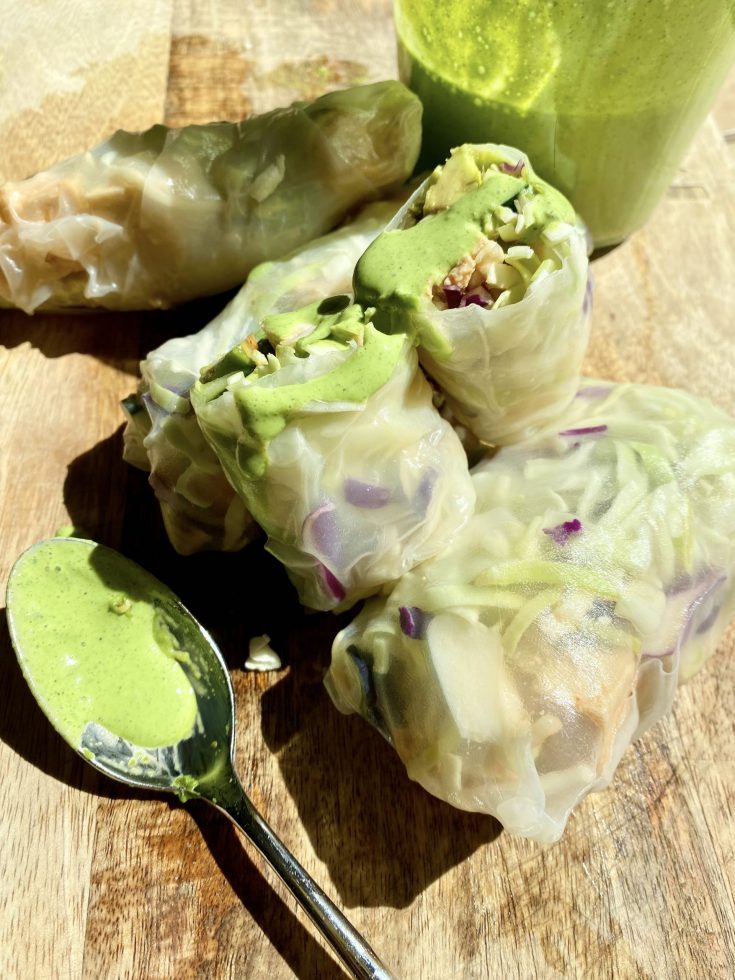 This dip is great for chips and veggies but also works great as a sauce on tacos!
Additional Time
30 minutes
Ingredients
1/3 bunch of Cilantro
3 fork fulls of sliced pickled jalapeños
1 packed of ranch dressing dip powder
Cumin to taste
8oz Sour Cream
Instructions
There is literally one step to this recipie! Dump it all in a blender and blend until smooth!
Let sit in the fridge for at least 30 minutes to let the flavors meld and enjoy!!
Shop this post!
Craving more creative content!
Check out more of my posts HERE!
Join my Modern Homemaking Community!