This is the easiest dinner you will make this week! Using only a few ingredients, pull together this quick and delicious version of pork carnitas in under an hour flat using your Instant Pot!
I came up with this recipe during our shutdown with Covid. I used ingredients that I already had around the house because we couldn't go to the store. Mexican food sounded good so I decided to figure out a way to make Pork Carnitas in the Instant Pot! Let's just say, this recipe was a SCREAMING success!
This is an extremely versatile recipe that you can use for many recipes. Tacos, quesadillas, salads, or even alone on top of rice. If you are short on time and motivation, this one is for you. I have made this recipe for friend's multiple times and they can't believe that it's this easy to make. All you need to pull this recipe together is a pork tenderloin, a seasoning mix that I will tell you how to make, chicken stock, and an orange!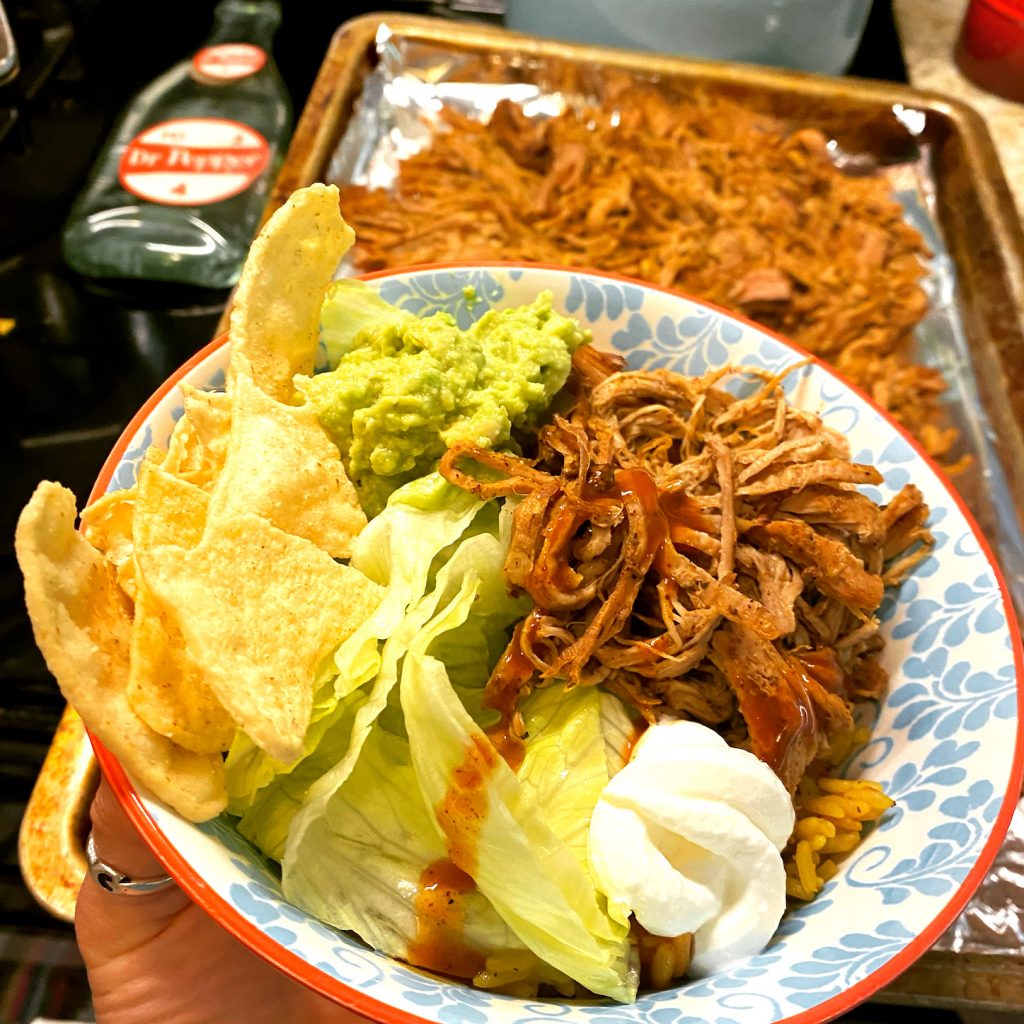 How do I make these magic Instant Pot pork carnitas you ask? Let's prep the ingredients:
For starters, whip out your Instant Pot. I use a 6 quart version of the Instant Pot and it works great. Grab a small pork tenderloin (1.5 lbs) and pat it dry. Create a dry rub by mixing together 1 TBSP chili powder, 1 TBSP Italian seasoning, 1 tsp salt, 1 tsp black pepper, and 1 tsp garlic powder. Coat the pork tenderloin in the dry rub on all sides. In your instant pot, add 3/4 cups chicken stock along with the juice of one orange. Add your pork tenderloin to the Instant Pot and put the lid on with the vent set to sealing. All you need to do now is set your Instant Pot to normal pressure for 50 minutes, sit back, and relax!
Let's get cookin'!
When your 50 minutes are up, do an instant release by setting the vent to venting and wait until all pressure releases. Once the valve drops, open the Instant Pot and remove the pork from the juices to shred. I like the cut the tenderloin in to 4 or 5 pieces to make shorter shreds of meat. Add your shredded meat to a rimmed backing sheet and spread in to an even layer. Set your broiler in your oven to high and place the baking sheet with the meat inside. I like to broil the meat for around 5 minutes just to get it a little bit crispy! This step is entirely optional, but definitely worth the extra 5 minutes.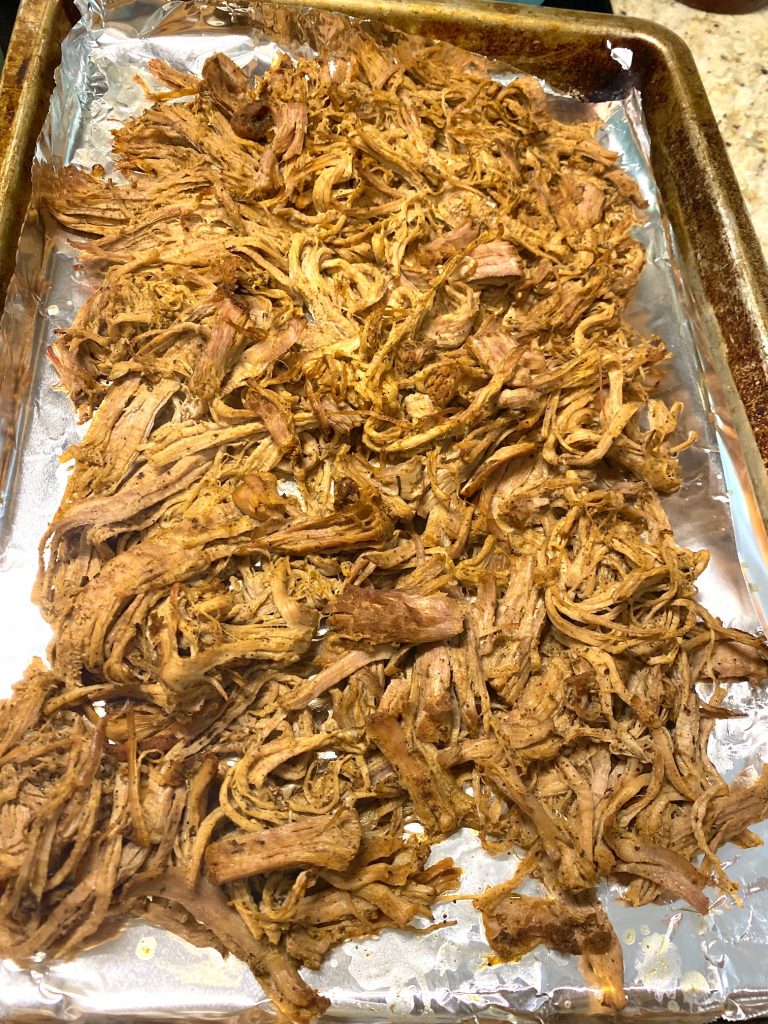 What do I do with my pork carnitas?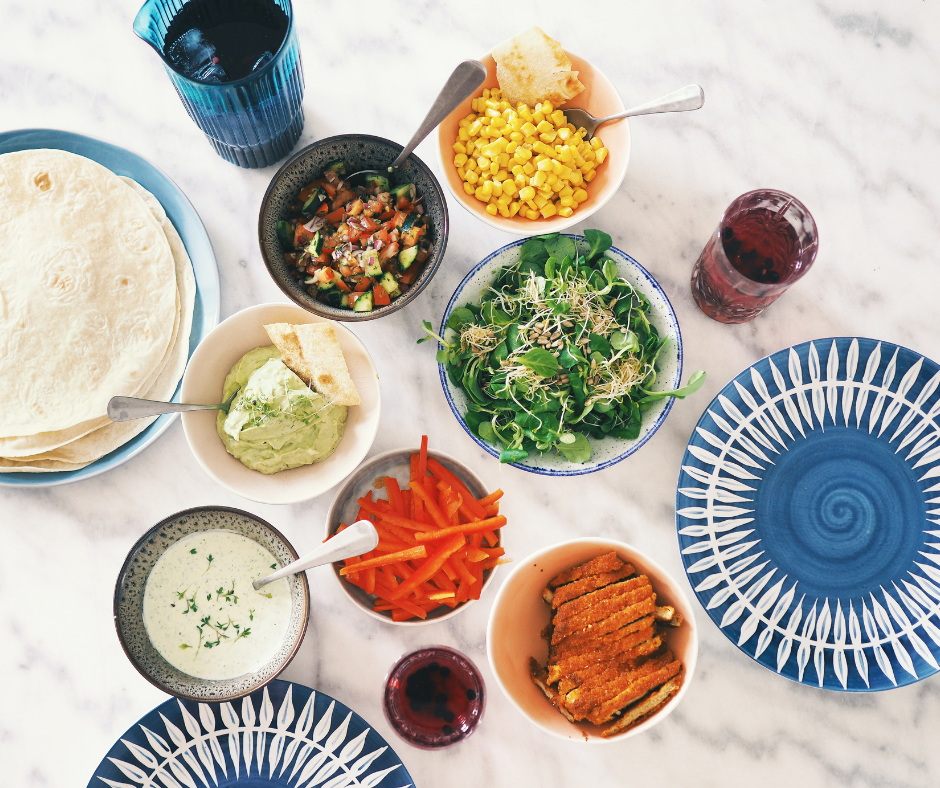 Now comes the fun part, EATING the pork carnitas! This is such a versatile meal, you could go a thousand different directions. Here is my list of favorite ways to use this recipe:
Taco Salad – I love to chop up some iceberg lettuce and add it to a bowl, sprinkle with cheese, add some pinto or black beans, a portion of the pork carnitas, and then sprinkle the top with crushed tortilla chips. I garnish this with salsa, avocado, and sour cream to really drive the dish home!
Quesadillas – Obviously, you know how to make a quesadilla. Now, let me tell you the BEST way to make one with these carnitas. I love the Mixla tortillas from HEB. They give you the pliability of flour tortillas with the flavor and chewiness of corn tortillas. The best of both worlds! I get them crispy in a hot skillet. Add a mix of shredded cheddar and pepper jack cheeses, smashed pinto or black beans, and a serving of pork carnitas. Use a lid when cooking the quesadilla in the skillet to melt the cheese evenly. Serve this with a little sour cream and salsa mixed up in a bowl for a dipping sauce!
Tacos – DUH. Mixla tortillas, toppings, you get the picture.
Breakfast Taco – This is my favorite little hack! I scramble 2 eggs in a bowl and season with salt and pepper to taste. Heat up a small non-stick skillet and grease well with butter. Add the eggs and allow to sit just until you start to notice the bottom beginning to set. While the eggs are still a little wet on top, add a flour tortilla on top. Allow to sit for a few more seconds. All at once, flip the tortilla with the eggs stuck to the bottom over revealing the eggs on top! Top with cheese, beans, and pork carnitas and remove from the skillet. Roll up into a cigar shape, and voila! Pork Carnitas Breakfast Burrito!
So there ya have it! Several ideas of how to use your new favorite recipe and I'm willing to bet you will come up with a thousand more!
The recipe!
Yield: 4-6 Servings
The BEST Instant Pot Pork Carnitas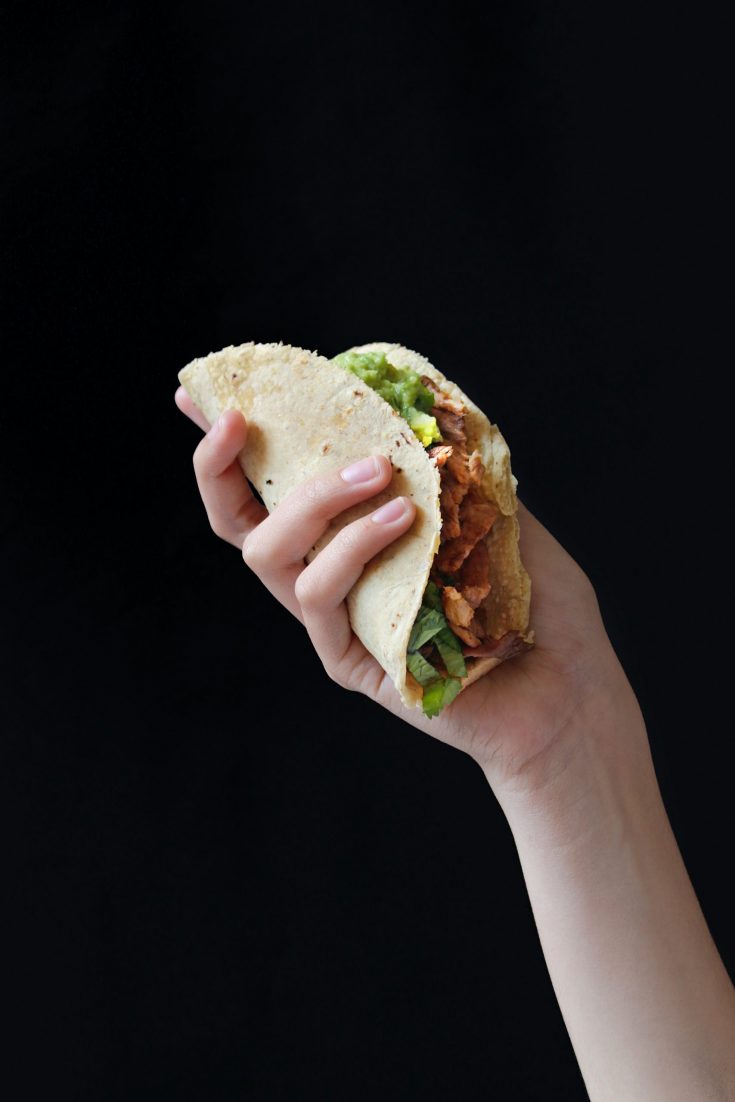 Pork Carnitas made in the Instant Pot! Great for tacos, burritos, quesadillas, salads, and more!
Additional Time
5 minutes
Ingredients
1 Pork Tenderloin (1.5 lbs)
1 TBSP Chili Powder
1 TBSP Italian Seasoning
1 tsp Salt
1 tsp Pepper
1 tsp Garlic Powder
3/4 Cup Chicken Stock
Juice of 1 orange
Instructions
Pat the pork tenderloin dry and create a dry rub by mixing together the chili powder, Italian seasoning, salt, pepper, and garlic powder. Coat all sides of the pork tenderloin with the dry rub.
To the Instant Pot add the chicken stock, orange juice, and the seasoned pork tenderloin.
Add the lid to the Instant pot and set the vent to sealing. Set the Instant Pot to pressure cook normal for 50 minutes.
When the 50 minutes are finished, perform a quick release by turning the vent to venting. Remove the pork tenderloin from the juices and add to a rimmed baking sheet to shred. I like to cut the tenderloin in to 4 or 5 pieces to create shorter shreds.
Place the baking sheet with the shredded pork in an even later under the broiler in your oven on high for about 5 minutes or until slightly crispy.
Add to your favorite dish and ENJOY!
Notes
This recipe can be easily doubled or tripled to feed a crowd!
Visual learner? Check out the video!
Craving more creative content?
Check out more of my posts HERE!
Join my modern homemaking community!