The beach is wonderful no matter what you take with you, my top 5 beach essentials, however, will make your visit even better! Here are my top 5 beach essentials for 2022!
Living in central Texas, we visit the beach often! We live about 3.5 hours from the Texas coast and make it down there as often as possible. With so many visits to the beach, I have essentials that I bring every trip, and this year I am sharing my top 5! Obviously these are not necessary for a good time at the beach, but dang, they sure do make it more comfortable!
This post contains affiliate links that I earn a small commission from at no cost to you. Please read my disclaimer notice here.
Beach Essential #1
Bogg Bag – My mom found this fun bag for me and gave it to me for Easter this year! I am officially obsessed! This guy is awesome for lugging around your beach towels, blankets, sunscreen, and snacks. It is nice and roomy, lightweight, and customizable. It has little accessories that you can purchase to attach into the holes in the bag. I have two clear bags attached to the interior to keep things like car keys, chapstick, and sunglasses to keep them from sinking to the bottom of the bag. The best thing about this bag is that you can hose it off when you get home and leave the sand outside! They come in tons of colors and sizes and are so fun and versatile!
Beach Essential #2
A sandless towel – There is nothing worse than getting out of the ocean and drying yourself off with a sandy towel. It is literally one of the worst feelings in life in my opinion. Enter, the sandless towel! Last year for my birthday, my sweet hubby bought this for me and I'm obsessed! The brand that I have is Tesalate, however, there are a ton of brands that make these now! You can lay this guy out on the sand and simply shake the sand right off! It is a microfiber type material so it dries super fast and it's super soft!
Beach Essential #3
Yeti Rambler Colster Can Insulator – While traditional koozies keep your hand from freezing off and keep your drink cold for a bit, this puppy will keep your drink cold the majority of the day! I LOVE drinking Waterloo when I'm at the beach but tend to be busy playing games and swimming in the surf. No matter how long I've abandoned my drink for, I can always count on it to be cold when I have it in my Colster. Yes, these cost more than the freebie koozies that you get at giveaways, but at $25 a pop, I think these guys are worth the investment for your next beach vacay!
Beach Essential #4 –
A big beach blanket – Nobody likes being confined to a tiny towel when they are laying out at the beach and my remedy to that is a big beach blanket! I always bring this guy with us to the beach, the park, or the pool and it always gets used! We tend to play games on it, eat on it, or even lay out on it, and guess what, it was homemade! I will do a DIY post for this guy to help you make your own shibori died beach blanket!
Beach Essential #5 –
Yeti Trailhead Camp Chair – Ok, I know this one sounds extravagant, but hear me out. I gave my husband a REALLY hard time when he insisted upon purchasing one of these. I thought, "how could this ever be worth the money". Sure it's comfortable and easy to set up, but how could it be worth the price? Well, besides the comfort level and durability, this guy has a lifetime warranty! That means, if it ever breaks, which most beach chairs do, they will repair or replace it! Anytime we take ours with us anywhere, everyone ends up sitting in them and considering a purchase. So… though this sounds bougie, maybe consider these chairs the next time your beach chair breaks down!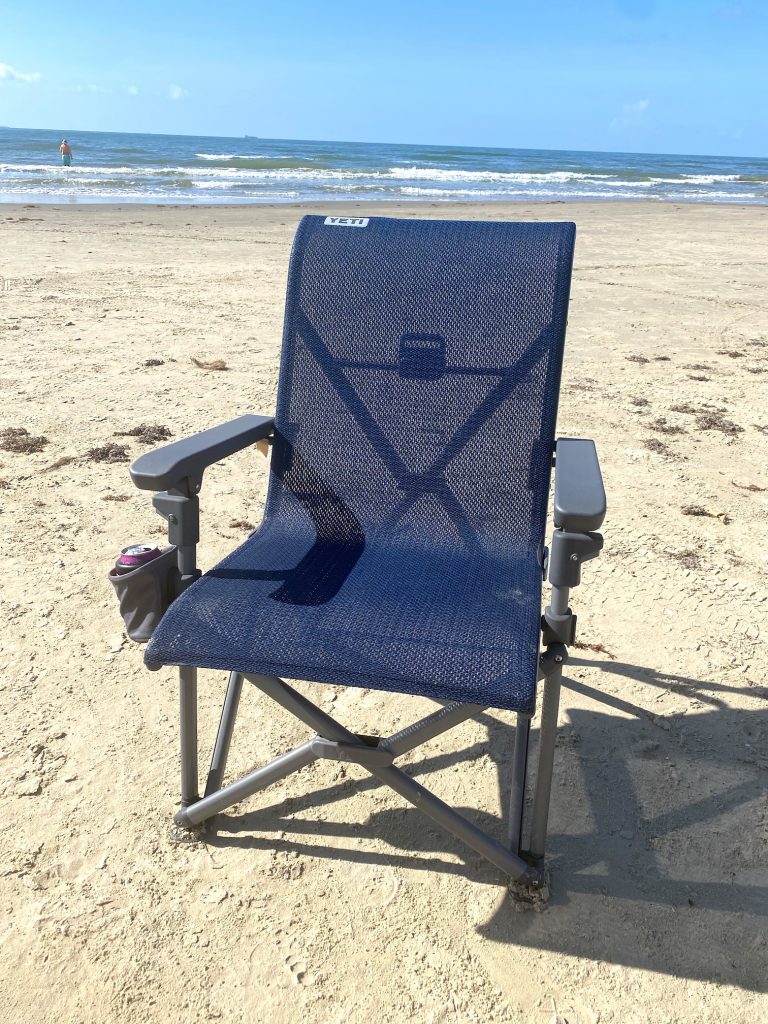 Ok, I lied… there are SIX beach essentials!
Beach Essential #6 –
A good project to work on!! – I'm not much of a reader, so I love taking something to keep my hands busy at the beach! This last trip, I took a knitting project and an embroidery project to work on. I used yarn that I made years ago from a t-shirt (DIY coming soon!) to knit a dish cloth and I did an embroidery project from a kit that my sister-in-law and brother-in-law gave me for my birthday! So fun and so satisfying! Also, dominoes… always bring dominoes!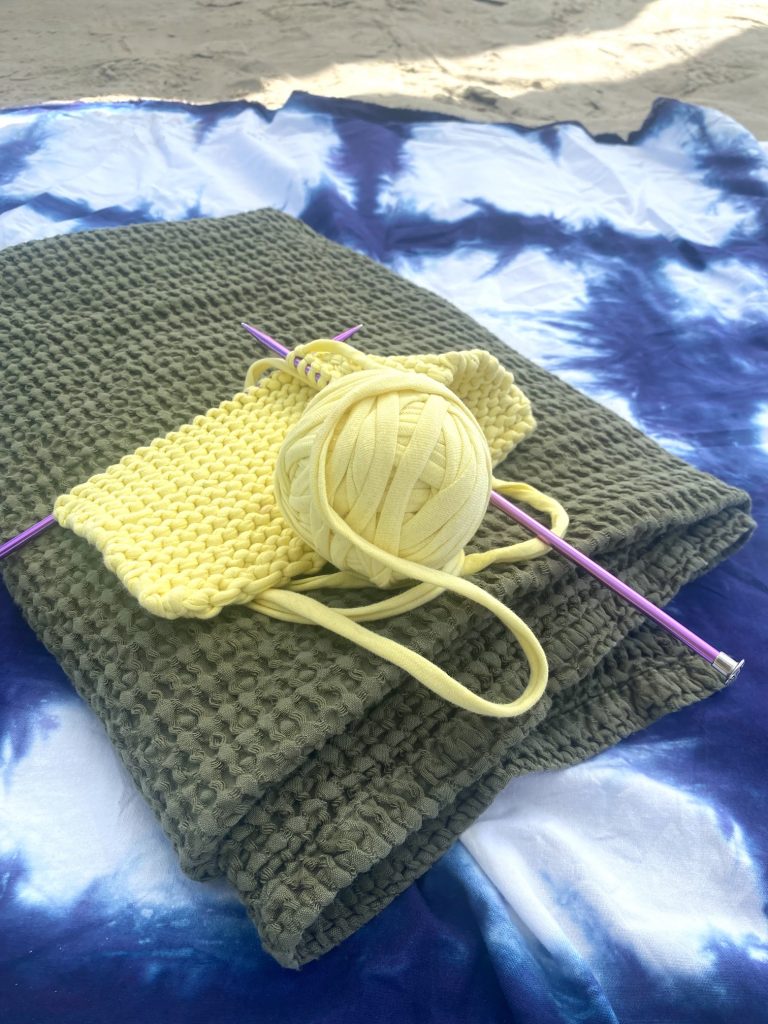 Oh and also… your SNACKLE BOX!
Shop this post!
Craving more creative content?
Check out more of my posts HERE.
Join my Modern Homemaking Community!