Today I will show you how to make these easiest DIY Christmas charger plates with no specialty tools and no real skill required! All you need are some themed paper napkins, Mod Podge, and paper plates!
I have always wanted my own set of Christmas dishes. My whole life, it has been a given that we will move the Christmas dishes into the china cabinet at my parent's house before Thanksgiving. We eat both our Thanksgiving and Christmas meals on the same set of dishes that we have since I was a baby and I love it. My grandma was obsessed with dishes and I have inherited her love of them! I love strolling through the shops around Christmas time to look at all of the pretty dishes and serving wares.
Though my love of Christmas dishes is strong, I have no place to store them in my house. We live in a small rental house with almost no storage. I have promised myself that one day I will have a proper china cabinet with my own set of Christmas dishes, but that is not my reality in 2021. So, I have to get creative! My in-laws are coming over on Christmas Eve for supper and I want to have a Christmas table setting. I was digging through some stuff in my office and found some paper Christmas napkins and voila! My DIY Christmas charger plate idea was born!
What will I need to make these easy DIY Christmas charger plates?
To make these plates you only need a few items. You will need paper plates, Mod Podge, a paint brush, and some Christmas themed paper napkins. If your paper plates aren't white, you will also need some white acrylic paint. Do keep in mind that these plates will not be something you will actually eat on. These charger plates are meant to serve as a pop of color and pattern underneath your actual dinner plates or bowls.
How do I get started?
Begin by painting over any visible printing on your paper plate if it is not completely white. Any printing on the plate will be visible once you apply your printed napkin to the plate. I like to use a hairdryer to make the drying process move quickly. Next, peel the back layer of your paper napkin off. You want the printed layer of the napkin to be totally separated. Work slowly and carefully to keep from tearing your napkin. Throw away the un-printed piece and set your printed sheet aside.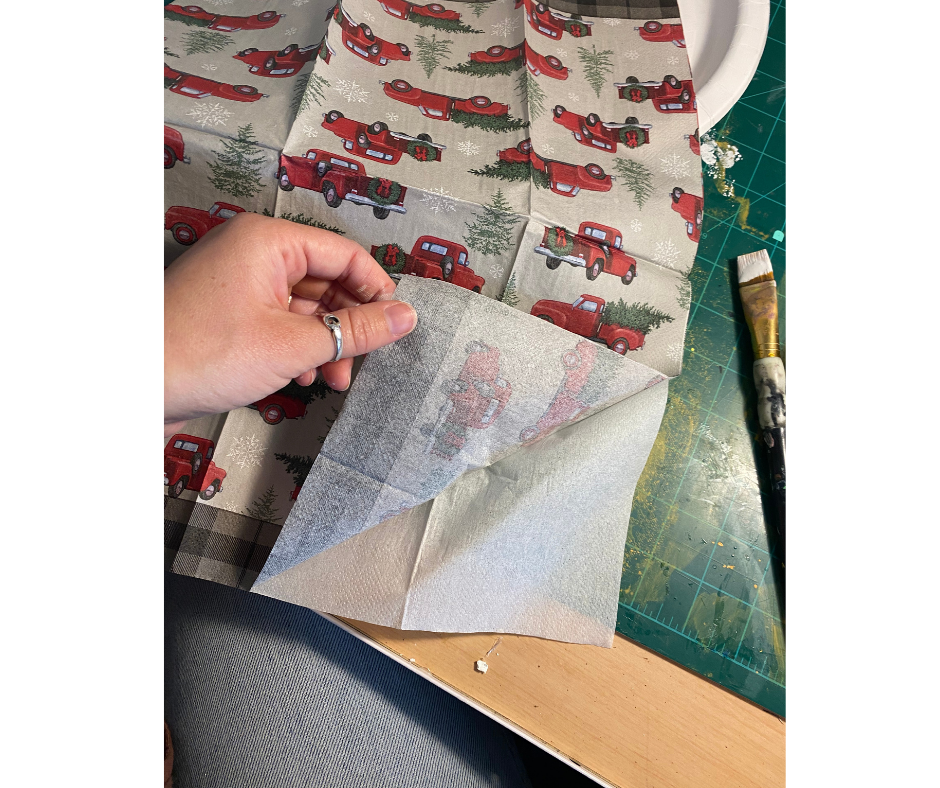 Next, pour some ModPodge into a bowl or onto a plate and mix with a little bit of water. You just want to thin out the ModPodge slightly so don't go too crazy here. I like to use a sponge brush to apply the Mod Podge to the napkin. Start by centering your printed sheet of the napkin on the plate. Using dabbing motions, use the ModPodge to adhere the napkin to the plate. I like to work in a circle from the center of the plate out to the sides. Don't worry if the napkin wrinkles, that is all part of the character! Once you reach the edges, simply continue to adhere the napkin to the plate until it wraps around the edges of the plate.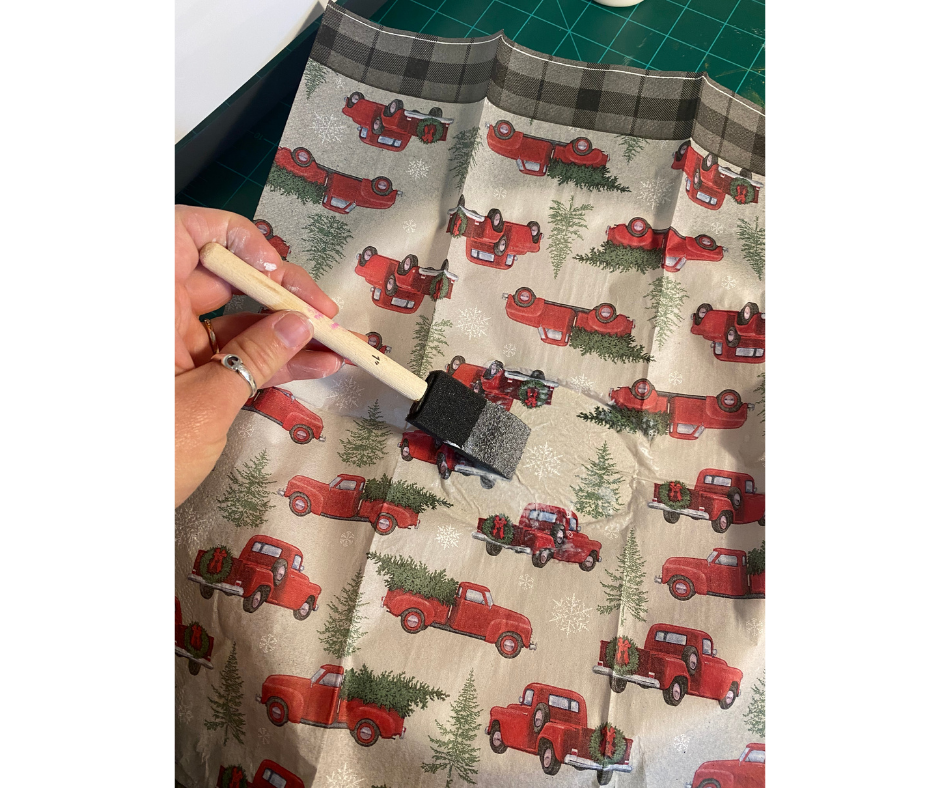 While the napkin is still wet, use your fingers to carefully tear off the excess and smooth out the edges. If you accidentally tear a hole in the napkin, you can patch the holes using the leftover sections of the napkin. Once again, I like to use my hair dryer to speed up the drying time.
Time to decorate your easy DIY Christmas charger plates!
I decided to add some metallic paint to my plates to make them look more festive! I just went around the rim of my plates and added a gold trim. Use this as your time to shine! You could use these as place cards and write the person's name in calligraphy, or even use your Cricut to cut out their name in vinyl. You could paint holy leaves around the edges, or what ever you feel like adding! This plate is your oyster! I decided to keep it simple for these plates and just did the gold rim.
How I'm setting my table for Christmas Eve
It is tradition in my family to eat gumbo on Christmas Eve because my mom is from Louisiana. Because of this, I will be making my Granny's recipe for Chicken and Sausage Gumbo that night! I look forward to this meal all year long because it takes all day to cook and is SO worth the time and effort! Because we are having soup, we won't need many dishes. The only sides that we eat with the gumbo are saltine crackers or sometimes we make Tutti Bread, so we don't need any additional plates. Please tell me if you've ever heard of Tutti Bread by the way. It has a ridiculous name, but is seriously delicious!
I will be using some linen placemats with their matching napkins, our everyday cutlery, and the soup bowls from our everyday dishes. We have the Lenox Chirp pattern and I love that we can use it all year long and that it mixes and matches with so many different things. I am going to keep the table scape very simple and only use placemats instead of a table cloth. In the center of the table I will have a serving bowl lined with a napkin for extra crackers.
Looking for a soup to serve on Christmas Eve?
Check out my simple recipe for Green Turkey Chili in the post below! It's a breeze to make and will have your family begging for the recipe!
The BEST 10 Minute Meals you can make on a Weekday!
You could also whip up my 2 ingredient Ice Cream to impress the family!
Two Ingredient Ice Cream without an Ice Cream Maker
What are your Christmas Eve traditions?
So now that you have heard our Christmas Eve tradition, I would love to hear about some of yours? Do you have a special way that you celebrate Christmas Eve? I love hearing about all of the different traditions that each of my friends have. Let me know below! I wish you all a happy and HEALTHY Christmas! See you soon!
Join my modern homemaking community!