Recycling is important but can be a confusing task. I'm here to tell you that it doesn't have to be! Today I am going to walk you through how to simplify recycling at home!
This post contains affiliate links that I earn a small commission from at no cost to you. Please read my disclaimer notice here.
What peaked my interest in recycling?
You may be asking yourself why I am writing about recycling on a homemaking blog. I believe that recycling is an extremely important part of running a modern household.
After going back to school for my interior design degree, I began to witness how much waste occurs in this industry. Furniture is shipped in crazy amounts of cardboard, plastic wrapping, and styrofoam. Remodels generate a HUGE amount of waste. It all just started to get to me how much waste I was placing in a dumpster on a weekly basis.
A few years ago, I began watching YouTube videos about people who lived a "zero waste" lifestyle. I found their tips and tricks to be very interesting. Thinking about how we live, I began see how I could incorporate some in my day to day life. I paid attention to what they avoided when shopping and what they were recycling rather than throwing away.
I will be the first to say that living zero waste is absolutely unapproachable for most people. It is probably even a very unrealistic way to live in our day and time. Unfortunately, plastic is a part of the world that we live in today. I do, however, believe that we can do better with how we dispose of it.
My history with recycling
Growing up in a small town in the 80's and 90's, I barely knew what recycling was. I remember learning about recycling and why it was important in school. As far as I know, there wasn't a recycling program in my hometown when I was growing up. Information about recycling plastic, glass, and paper was taught but I had no idea of the rules. I didn't even know where to have items recycled.
I can honestly say, that as I have grown older, I have steadily noticed garbage polluting the places that I love. Littering has never been a thing that I have done myself, but believe me, litterbugs exist all around us. I notice it more on the side of highways, in the rivers that we fish in, and even blowing in to our yard at home.
Over the past few years, the thought of landfills growing and plastics polluting our planet has really started to haunt me. I am constantly thinking of how much plastic I am bringing in to our house and trying to think of ways to combat that necessary evil.
What makes recycling so confusing?
Recycling can be a very daunting task without doing a little research. You are constantly hearing about things that you thought were recyclable that aren't. For instance, I used to always put pizza boxes in the recycling bin. Pizza boxes actually ARE recyclable before a pizza has been placed in it. After the pizza box has been used, however, the grease and cheese left behind prevent it from being recycled. You also hear that you can't recycle the plastic bags that you get at the grocery store and you can't recycle ziplock bags, etc. All of this confusing information can cause fatigue and cause many homemakers to just give up and throw things in the trash.
Recycling can also be confusing because recycling programs can vary from city to city. In many cities you still have to drive your recycling to a recycling facility rather than having it picked up curbside with your trash. I live in a major city so we do thankfully have curbside pick up, but even our facilities have their limits and regulations.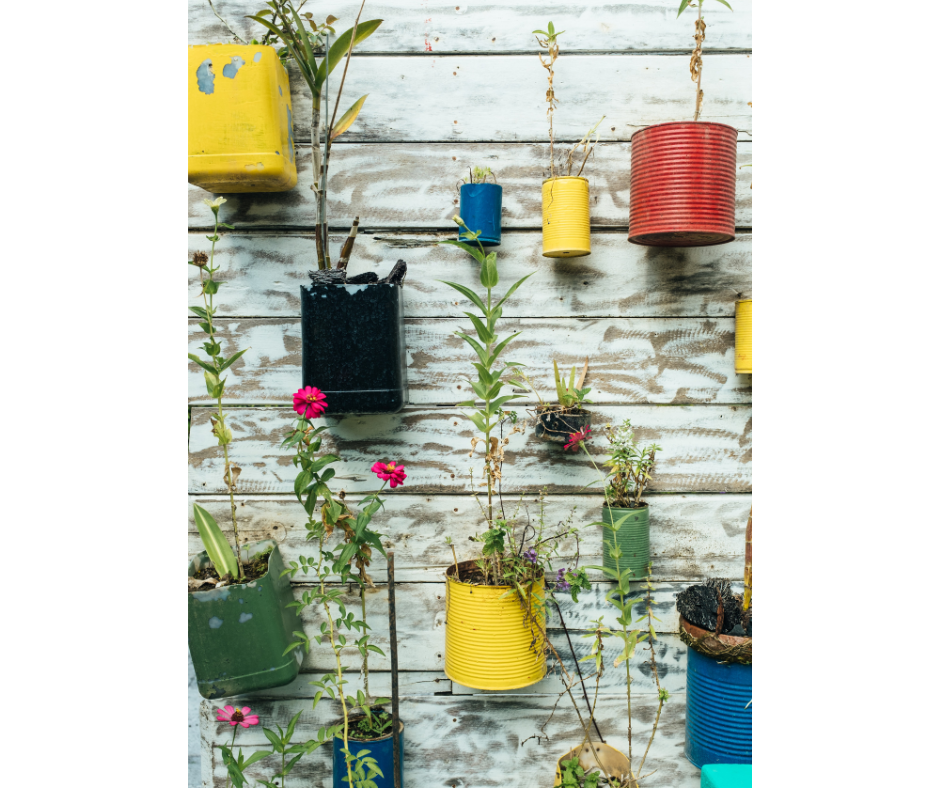 What CAN I recycle with curbside pickup?
I highly recommend researching what is allowed in your area, but for the Austin area, this is how it works! I think that the easiest way to think about recycling is to break it down in to larger categories.
Hard Plastics – Tupperware containers, plastic bottles/containers, plastic lids, broken plastic chairs, etc.
Glass – Jars, bottles, old candle jars (with wax melted out and wick removed), etc.
Metal – Cans, metal lids, aluminum foil (wadded into a 2″ ball), etc.
In Austin, we do not have to remove labels from jars and cans currently, but double check your communities rules and be sure to comply to them. I just make sure to give my jars and bottles a good rinse before placing them in my bin and go about my day!
What CAN'T I recycle with curbside pickup?
There are several things that cannot typically be collected with curbside recycling, but never fear, there is a solution for those items as well! Here is a list of things to not put in your curbside bin and what to do with them:
Ziplock Bags – most grocery stores offer a recycling bin for thin plastics like ziplock bags! Collect them throughout the week and drop them off when you go grocery shopping! If this option is not available at your grocery store, you can typically drop them off at your nearest recycling center. Plan to do a drop off once a month!
Plastic Grocery Bags – Drop off at the grocery store once a week or at the recycling center once a month.
Pizza Boxes – because of the grease left behind from that delicious pizza, pizza boxes aren't actually able to be recycled. Your best option for these would be composting, but that is a different topic for a different day! If you don't compost, I would say this is a good option for the trash since it will break down easily.
Used Paper Towels – your best option for used paper towels is curbside composting. If this is not available in you area, these would go in the trash.
Old Garden Hoses – many communities have a reuse directory that you can consult to find someone who might want it! Otherwise, this item would go in the trash bin
Tetra Pak – Unfortunately, at this time, Austin does not recycle Tetra Pak cartons. These are the cartons that broth, milk, and even some boxed water come in. For the time being, these will need to go in the trash or be repurposed in some way.
Styrofoam – Styrofoam is just one of those things that has to go in the trash bin… I simply try to limit my use of this product as it can breakdown and end up in our water systems. Styrofoam has it's perks of course, but I try to limit my use as much as possible.
What kind of recycling bin should I use to simplify recycling at home?
There are many options when it comes to recycling bins, but there are three major types.
City Provided Bins – many cities offer a small bin to place inside your home to empty into a larger curbside cart when it is full! Ask your local recycling program for more information.
Store bought recycling bins – You can find blue recycling bins at most home improvement stores for purchase in many different sizes. You can also purchase blue recycling bags to line these bins.
Paper Grocery Bags – This is what we use in our home! When we do grocery delivery, our groceries are delivered in paper grocery bags. We fold them up after we empty them and use them to fill with our recycling to drop in our recycling bin as they fill up!
How to make recycling at home EVEN EASIER for yourself!
To make recycling even easier in our household, there are several things that I try to do.
Use reusable bags at the grocery store – thankfully, in Austin, we had an initiative for several years where you had to actually pay for bags at the grocery store. This got most of us used to taking reusable bags to the grocery store and it is now a habit for me! I keep several in my car just in case I forget them, but when I make my grocery list at home, I always place it in a reusable bag (with other bags inside) so I won't forget to put my bags in the car!
Don't put produce in the plastic bags at the grocery store unless they are compostable (it will say on the bag and they are typically green in color) – I figure, I am going to wash my fruit and veggies when I get home anyway, so I opt to just sit them straight in my cart and straight on the belt in the checkout line!
Try to purchase milk in glass bottles – This is a little harder to achieve as it can be harder to find milk in glass bottles these days. When I have time, I try to purchase my milk at Whole Foods because they usually have this option! It's also great milk!
Purchase eggs in paper containers – You can almost always find eggs at the grocery store in paper containers! Since styrofoam is not recyclable, I try to opt for the paper packaging the majority of the time.
Recycling at home demystified!
In conclusion, there are definitely rules surrounding recycling, but you shouldn't let that stop you! Taking 10 minutes to research what is allowed in your city can make all the difference. Once you understand the rules in your area, recycling becomes second nature and isn't so intimidating! In short, thin plastics typically have to be taken to a specified collection site, hard plastics, glass, and metal can be collected curbside, and greasy paper/used paper towels can either be composted or thrown in the trashcan. I hope this helps to inspire you to tighten up your recycling routine in the new year and in turn create a cleaner planet for us all to enjoy!
Shop this post!
Want more creative content?
Join my modern homemaking community!